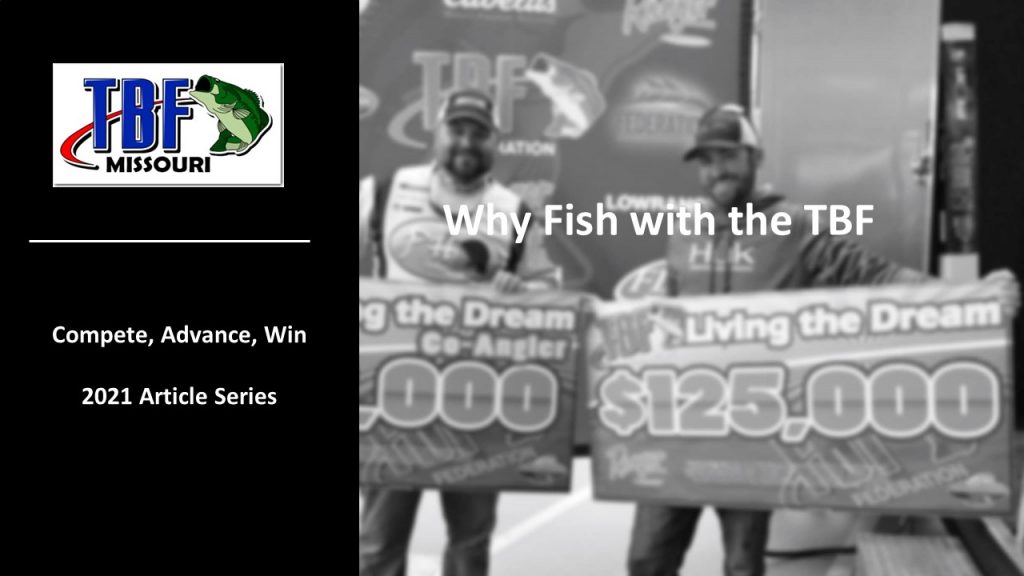 There are a lot of tournament series out there, so why should an angler consider fishing with the TBF? While each circuit has some advantages, the Missouri TBF offers a unique combination of benefits for both boaters and co-anglers. The TBF difference starts at the club level where we have existing clubs throughout the state that offer a range of fishing opportunities. Some of these clubs have local tournaments while others are used as a platform for our state level tournaments. We can help a boater or co-angler find an existing TBF club, help their existing club sign up with the TBF or assist them in setting up a new club.
Once a member joins a club, they have access to all club events and Missouri TBF state-wide tournaments. While these events are competitive, our tournaments are structured to assure each member, regardless of age or skill level, has a fun time on the water. Our schedule was designed to give our anglers multiple paths to qualify for the TBF National Semi-Final and move on to the TBF National Championship where they fish for prize packages worth up to $100,000! We offer three different ways to qualify for the next level of competition:
STATE QUALIFIERS – We offer 2 separate State Qualifying events each year. These are separate tournaments, so anglers do not have to fish both to advance. Boaters and Co-anglers are randomly paired each day and we take the top 3 boaters and top 3 co-anglers from each event to advance on to the TBF National Semi-Final.
TEAM CHAMPIONSHIP –For those anglers that like to fish with a regular boater and co-angler team, we host the Missouri TBF Team Championship each year. At this event we have merchandise giveaways from our sponsors as well as trophies and cash prizes for the top teams. In addition, the top team from this event also advances to the TBF National Semi-Final.
CLUB CHAMPIONSHIPS –In addition to the events above each MO TBF club can send their club champion angler and co-angler to the TBF National Semi-Final. Each club has its own rules on how the champions are designated but this often provides members with a more convenient way to move on to our National Semi-Final. As you can see the Missouri TBF format is unique and provides a lot of flexibility to anglers who may have limited time for travel or busy tournament schedules. The random draw format provides a great opportunity to meet new people, learn new techniques and explore new water for both the boater and the co-angler. We have a talented group of anglers that will make boaters and co-anglers feel welcome while they enjoy the fun and competition of tournament bass fishing. We would love to have you join us for 2021 so feel free to reach out to any of the officers to discuss the benefits of fishing with the Missouri TBF!