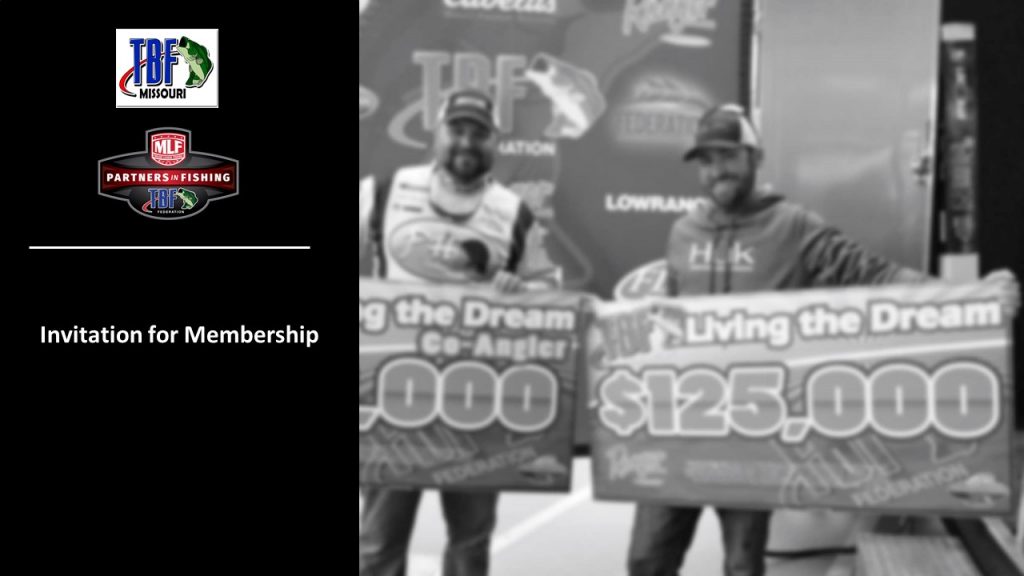 The Missouri TBF team is excited to extend you an invitation to fish with us in the 2021 Missouri TBF Qualifier Series. The 2021 season will be a memorable one that we hope you will make plans to be a part of. The Missouri TBF Qualifier Series is your pathway to the TBF National Sem-final and ultimately the TBF National Championship. It is anglers, like you that make our sport great, and we appreciate you fishing with us. 2021 membership registration is open now.
The 2021 Missouri TBF Qualifier Schedule features three events (two boater/co-angler events, one team event) plus the opportunity to qualify through Missouri TBF affiliated club champion competition. Anglers will be qualified from each event, giving you the opportunity to fit the TBF within your busy schedule. Tournament qualifiers and club champions earn a shot at winning over $100,000 at the TBF National Championship. The winning co-angler at the TBF National Championship earns over $30,000. Additionally, the top boater and co-angler from each of the seven TBF divisions will advance to the Major League Fishing BFL All American (If you meet MLF Competitor Membership requirements prior to qualifying).
Missouri TBF Membership and Entry Fees remain unchanged at $80 for membership and $150 boaters and $100 co-angler per tournament. The 2021 Missouri TBF Boater and Co-Angler of the Year earn their 2022 MO-TBF qualifier entry fees paid.
2021 Schedule:
March 27 & 28 – Qualifier #1 Table Rock Lake (top three boaters and co-anglers advance)
April 25 – Team Open Lake of the Ozarks (top team advances)
May 22 & 23 – Qualifier #2 Truman Lake (top three boaters and co-anglers advance)
If you are 16 or older please do not miss the opportunity to be counted among the best anglers in the state and country.
For membership do not hesitate to contact Dennis Maggart (Dennis@mcinnesgroup.com) or Chris Dougan (d.chris.dougan@gmail.com).
We hope to see you on the water soon.
Sincerely,
Dennis Maggart                                               
President, Missouri The Bass Federation      
Chris Dougan
 Secretary, Missouri The Bass Federation