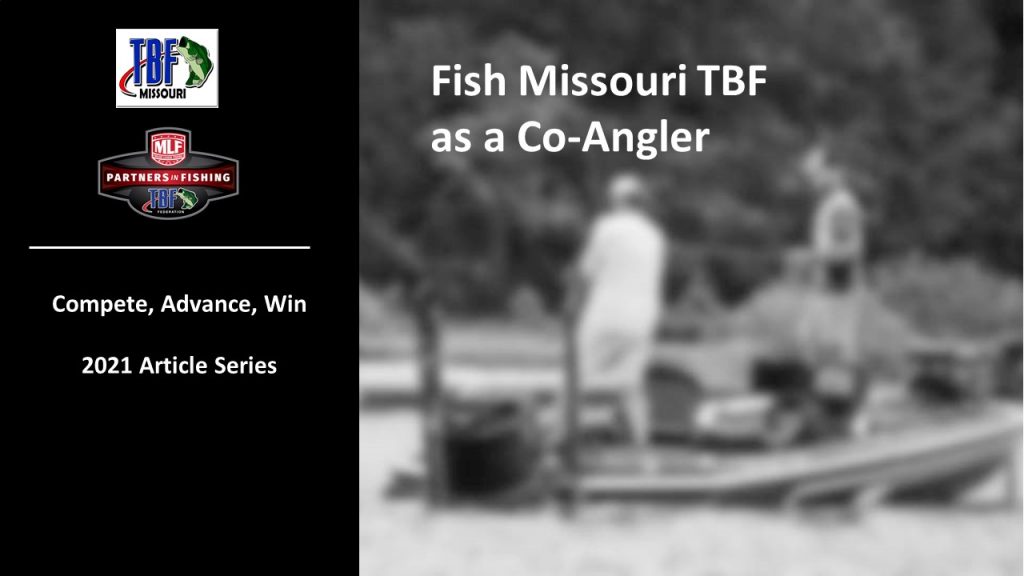 Adding Missouri TBF to your tournament schedule will help you develop into a better angler.
The best ways to become a better angler is to spend more time on the water and to fish with anglers that are more skilled than you. Whether you are new to the sport or a seasoned angler, fishing as a co-angler will build your skills.
How we do it:
Good Pairings – Tournament pairings are random draw. You will have the opportunity to get paired with some of the best tournament anglers in the state, many with regional and national championship experience and wins.
Co-angler Development – Boaters compete against boaters and co-anglers compete against co-anglers. This keeps the pressure of competition off each other in the boat and you can focus on catching fish and helping your partner. Most Boaters take a lot of pride when their co-angler partner brings in a limit and offer guidance throughout the day.
Opportunity – Missouri TBF offers a great way to advance to the TBF National Semi-final, TBF National Championship and Major League Fishing BFL All American. There are three ways to advance – 1) Place in the top three in one of the Missouri TBF Qualifier Tournaments 2) Place as the top team in the Missouri TBF Team Open 3) Qualify as your club champion co-angler.
Success – The proof is in the results.  A Missouri TBF co-angler won the TBF National Championship in 2018 – Ray Blash.  Troy Ladehoff is the 2020 Ozarks Division BFL co-angler champion at Table Rock Lake and 2020 Ozarks Division Co-angler Angler of the Year.  Missouri TBF Co-angler Greg Lampton is heading to the 2021 TBF National Championship.   
Co-anglers take on the challenge of learning new skills, improve your game and have fun.
For more information about joining Missouri TBF contact Chris Dougan at d.chris.dougan@gmail.com