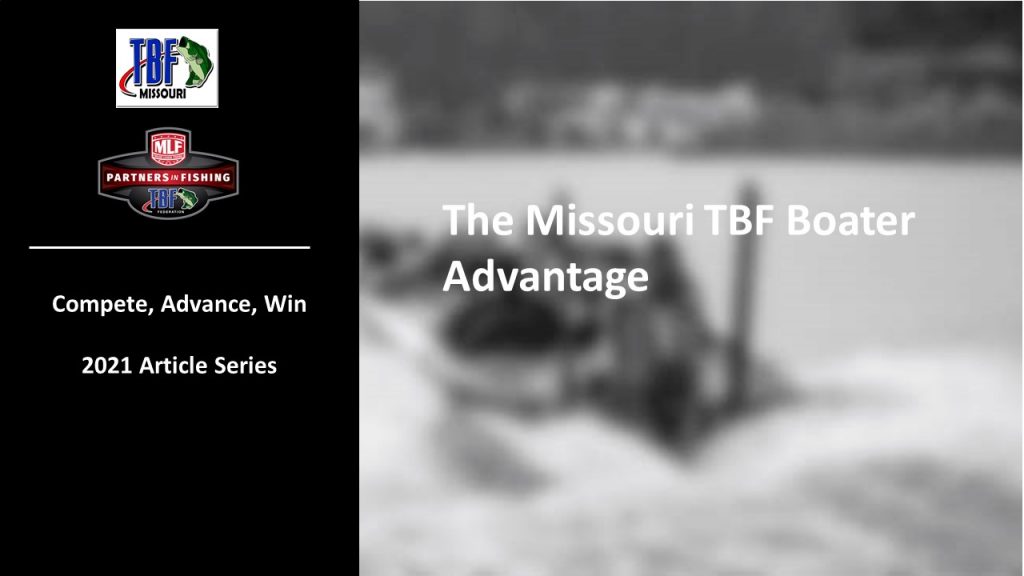 Tournament bass anglers have lots of options when it comes to selecting a circuit to fish, why should they consider The Bass Federation of Missouri? As a boat owner, you have significant resources invested in your sport, so you want to be smart about where you invest your time and money when selecting an organization. Common considerations for most anglers are cost, schedule, and location. Every circuit struggles to please as many members as possible when setting fees and schedule and the TBF is no different, but other important factors are what set the TBF apart. Here are a few reasons why a boater should consider the TBF for the 2021 season:
Affordable Fees: Like most circuits, the Missouri TBF has both annual dues and event entry fees. TBF annual dues are only $80 per year and are paid thru an affiliated club (if you do not know of a local club, we will help you find one). In addition, as a member of TBF, Major League Fishing offers a discount on your MLF Competitor Membership ($48.70 vs. $75.00). Our statewide Qualifier events have $150 entry fees for boaters, and while we don't have traditional payouts, you are competing for expense stipends (hotel and gas allowance) at the National Semi-Final. If you prefer cash payouts, we also offer a team event where you can fish with your favorite co-angler for cash, prizes, and a slot in the National Semi-Final.
Ease of Qualifying: Our format is built around the opportunity to advance to the National Semi-Final, TBF National Championship and BFL All-American. These events offer major cash payouts culminating in the Living the Dream package valued at over $100,000! While anglers can qualify for the BFL National Championship thru other circuits and BFL events, our events are much smaller and less expensive than traditional BFL events. In addition, we offer the opportunity to qualify for the National Semi-Final thru your club championship or our Team Event. Overall, this offers anglers a less expensive and more flexible path to national level events and your shot at major rewards and career recognition.
Co-Angler Change: Our events include random draw co-anglers. In the past, the TBF gave the co-anglers control of the boat for half of the day but this was changed several years ago. Today our events give the boater control of the boat all day, so you can determine your water and when to hit your best spots. In addition, since you are not competing against the co-angler for qualifying spots, you can enjoy a stress-free day on the water with a quality partner for the day.
Lake Rotation: While some anglers enjoy fishing the same lake every event, the TBF focuses on offering anglers the opportunity to compete on a variety of quality destinations each year. Our events rotate annually between Lake of the Ozarks, Pomme De Terre, Truman, Stockton and Table Rock/Bull Shoals. Since each event is separate, members have the advantage of fishing different lakes without the requirement to compete at each location. This flexible schedule also allows our anglers to coordinate our events with other circuits and personal time, making for a stress-free experience.
Our Members: When I talk to members about why they fish the Missouri TBF the most common answer I get is "it's the guys in the TBF". Our events are competitive, but we are committed to making these events enjoyable for both boaters and co-anglers. Rules and format are simple and straightforward and everyone from leadership to the members work together to make the operation run smoothly. While we cannot assure anyone success in finding and landing fish, I can guarantee that thru the Missouri TBF you will enjoy your time on the water and will make long-lasting friendships.
We believe the Missouri TBF has a lot to offer boaters who are looking for a competitive circuit, with a potential for big payouts at a national championship. We know you will have a great time with the TBF, and we hope you come join us for the 2021 season.
For more information about Missouri TBF please contact Dennis Maggart at Dennis@mcinnesgroup.com