Changing spring weather put fish on the move.
Author:  Dennis Maggart
Beautiful Table Rock Lake was the setting for the first of 2 Missouri TBF Qualifying state tournaments on March 11th and 12th.  Twenty-five boaters and co-anglers took off from Mill Creek ramp on Thursday and Friday for official practice.  Lake conditions were changing with rain forecast and water temperatures and clarity varying from the dam to upper reaches of the creeks.  Anglers could find water temps as high as the low 50's with most of the water in the upper 40's.  Recent rains had muddied up some creek arms, but the lack of sun had not allowed the darker water to warm, making some of these areas less productive.  The overall bite was still indicative of late winter/early spring with the A-rig, jerkbaits, crankbaits and small swimbaits dominating most arsenals. While some fish were wanting to move to the bank, most fish were still suspended in the deeper trees on primary and secondary points or relating to shad schools in pockets or coves.
Saturday dawned wet and overcast with temperatures around 39 degrees warmer only slightly throughout the day.  Rain interrupted the day for most anglers with drizzle and showers throughout.  Winds also switched throughout the day from North to East blowing from 10-15 mph for most of the day.  Leading the pack after day one on the boater side was one of our youngest anglers, Cody Miller weighing in an impressive sack of 5 fish for 23.39 pounds.  His bag was anchored by a giant 7.25 pound largemouth which also took home big bass of the day.  Tim Merkh, one of our more experienced anglers on Table Rock, came in second with 16.64 pounds.  Rounding out the top 5 were Dillon Robertshaw (15.84), Brian Maloney (15.53) and Gabe Galubosky (14.59).  On the Co-angler side Gary Martin brought 5 good fish to the scales for 14.39 pounds.  Standing in second was Jordan Yakel with 5 for 13.16.  Just behind our leaders were Paul Huse (6.51), Billy Ray (5.31) and Grant Simmons (3.79).
As is often the case in spring, Sunday's weather was completely different than the previous day with sunshine and light wind from the south.  This required an adjustment from the anglers and pushed some fish to the bank and brought schooling fish to the surface.  Cody Miller made the right adjustments and followed up his dominating performance on day one with 5 more keepers for 15.29 pounds.  Jess Stewart made a second day charge with 5 fish for 14.56.  Next up on the board was Brian Maloney (14.05), Tim Merkh (13.43) and Dillon Robertshaw (13.21).  Big bass on the boater side was a 6.18 pound largemouth weighed by Darren Woebke.  On the Co-angler slate, Grant Simmons had the big bag of the day with 5 fish for 15.02 pounds.  Jon Small also had a limit for 12.79 followed by Gary Martin (5 fish for 10.81), Jordan Yakel (6.26) and Paul Huse.  Big bass on the co-angler side went to Patrick O'Neal with 4.39 pounds!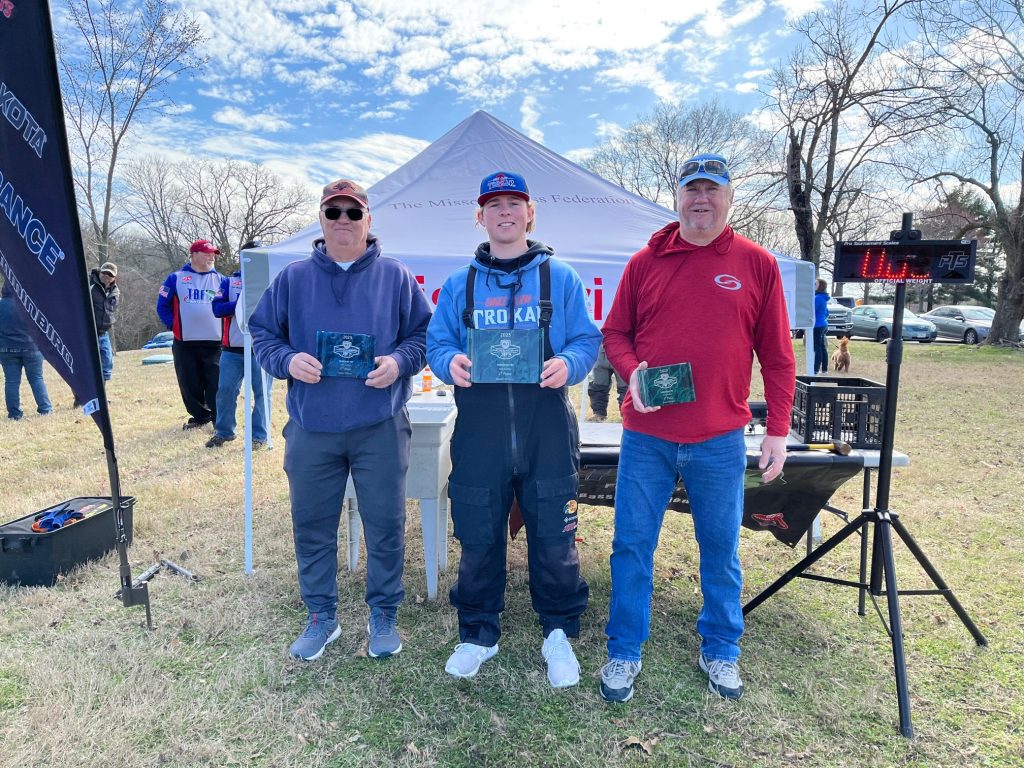 Top Boaters: Tim Merkh, Cody Miller, Brian Maloney
Missouri TBF uses our Qualifiers to advance 3 boaters and 3 co-anglers directly to the TBF National Semi-Final, hosted this fall by the Kansas Bass Federation at Wilson Lake.  Each qualifying angler gets not only a check and a slot at the National Semi-Final but a stipend to cover their entry with a chance to win over $150,000 at the TBF National Championship.  Our top boater from the event was Cody Miller, and while he is young in years, has a lot of local experience on Table Rock Lake. Finishing with an impressive 2-day total of 10 fish for 38.68 pounds, made up primarily of largemouth but with a couple smallies thrown in for good measure. He used this experience and his expertise with electronics to locate suspended fish relating to bait fish and structure.  He caught multiple keepers each day using an A-rig and single 3-inch swimbait on light line for the finickier fish.  He was searching for active fish, leaving spots only to return later to check for new activity.  As a young angler Cody has had the advantage of growing up with modern electronics but has also benefited from a lot of advice from us "old guys".  He would like to thank Rod Allen, Sam Heckman and Steve Way for getting him started in the sport and helping him progress thru the TBF youth and into the adult programs.
Tim Merkh is no stranger to Table Rock Lake, and he used his experience to catch multiple keepers each day, culling up to a 10 bass total of 30.07 pounds which was good enough for second place.  Tim focused on the main lake area using primarily a jerkbait and swimbait to trick schooling fish.  Finishing in our last qualifying spot was our reigning MO TBF Champion, Brian Maloney. Brian also had a 10 fish limit for 26.58 pounds using a combination of jerkbaits and single swimbaits on main lake cuts.  Rounding out the top 5 was Dillon Robertshaw with 10 fish for 29.05 and Robert Hime with 10 for 25.74.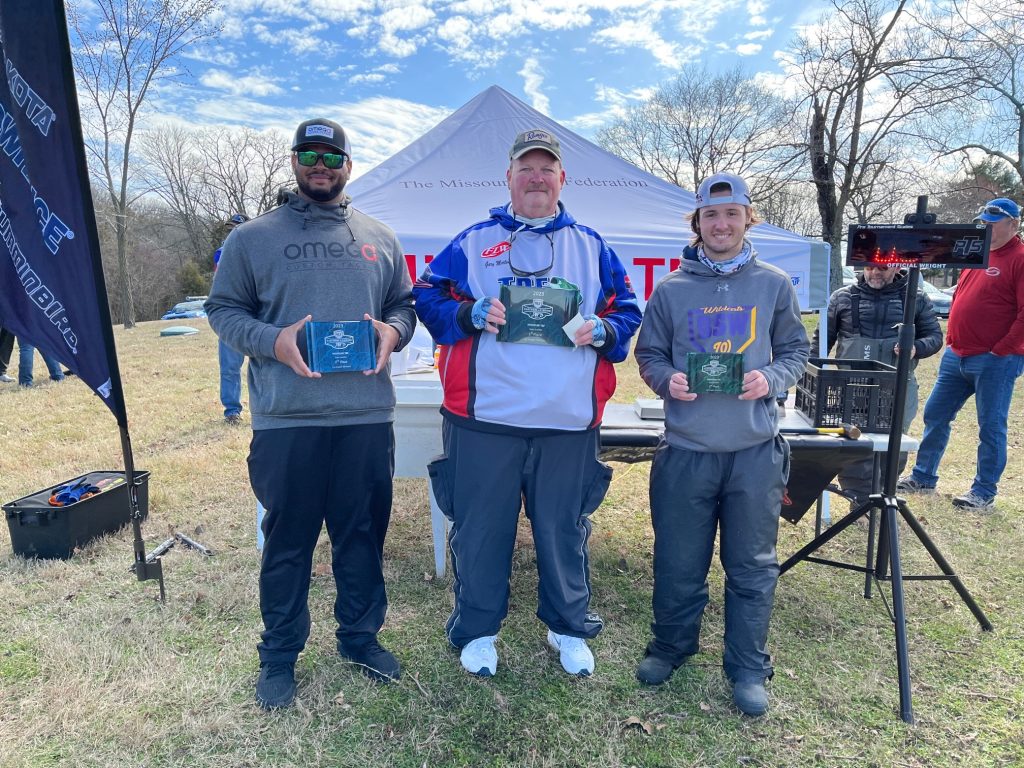 Top Co-anglers:  Jordan Yakel, Gary Martin, Grant Simmons
The Co-angler side is always tense, and this event was no exception.  Our overall champion is no stranger to the winner's circle, Gary Martin.  As the only Co-angler to bring a full limit to the scale (25.2 pounds), Gary is a threat at any TBF event.  He used an A-rig for most of his fish but also caught some good keepers on a Rock Crawler and this versatility was critical for his success from the back of the boat.  Finishing second is another relative newcomer to MO TBF, Jordan Yakel.  Jordan put 2 good days together for 8 keepers weighing 19.42 pounds.  He used a mix of baits but primarily relied on a crank bait in classic spring craw colors to trigger strikes. Making a second day charge to secure third place was Grant Simmons. Grant is one of our younger anglers and skipped a few of his senior high classes to fish with us.  Thanks to a 5 fish limit on the second day he was able to secure the last qualifier slot with 6 total fish for 18.81 pounds.  Finishing just out of the top slots were Jon Small (6 fish for 15.18) and Paul Huse with 4 fish for 12.23.
Given the variables that always accompany these early spring tournaments, the MO TBF was very fortunate to have acceptable weather and a strong field of boaters and co-anglers for the event.  Overall, 171 fish were weighed for 468.9 pounds representing an impressive mix of Largemouth, Smallmouth and Spotted bass, and most importantly all were released back into the lake alive to fight another day.  The Missouri TBF could not hold these events without the help of volunteers and sponsors.  We would like to thank our Tournament Director, Jon Small as well as Jared Shelton for all the assistance at the weigh-in. We were also very fortunate to have a couple of "new" members come assist us all the way from Colorado in Rod Allen and Gary Epperson.  They made the morning take off much more enjoyable (thanks for the donuts) and made the weigh-ins go much smoother.  Our sponsors are also critical to our success, and we want to thank Ranger Boats, Bass Pro Shops, Cabelas, Power Pole, Lews, TH Marine, Wholesale Batteries and Strike King.  We hope you can join us again for our second qualifier at Truman Lake on June 3rd and 4th where we'll select 6 more lucky anglers to move on to the TBF National Semi-Final.