Transitioning spring weather means fish are on the move!
Author: Dennis Maggart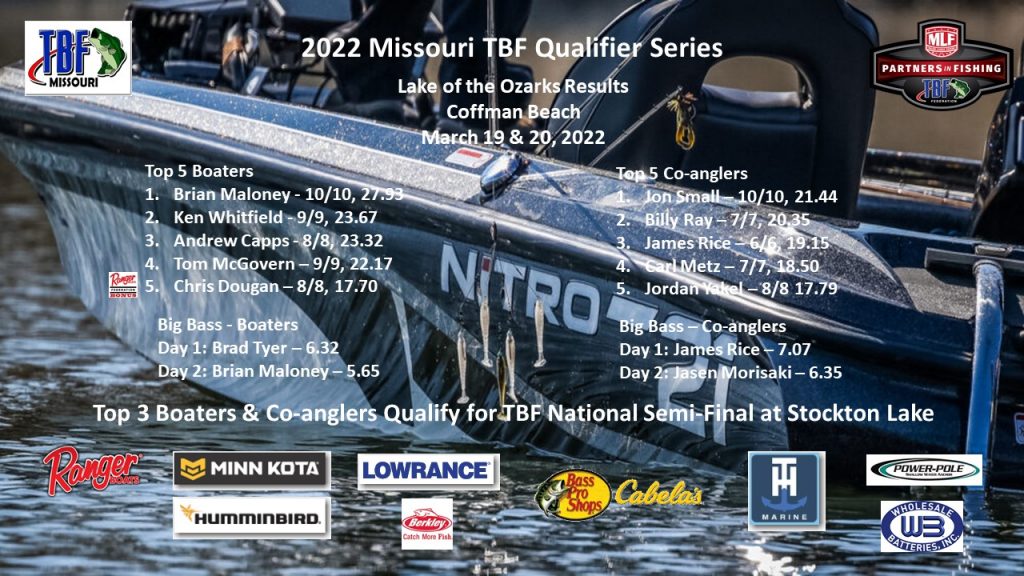 Mid-Missouri's Lake of the Ozarks hosted the first Qualifying tournament for the Missouri TBF's 2022 season on March 19th and 20th at the Coffman Beach Ramp. Weather this time of year can always be sketchy, and while practice conditions were tough the weather for Saturday and Sunday could not have been better for this early time of year.  Twenty boaters and nineteen co-anglers took off at 7:00 AM each morning to cool morning temps that hovered around freezing but warmed up throughout the day.  While we had some rain showers on Friday, they did not generate any run-off which kept the lake about 5 ½ feet below normal pool with fairly clear water conditions.  In parts of the lake the warmer water was causing the lake to turn over complicating the pattern for some anglers but overall, the lake was in classic early spring condition.  Water temps varied based on the area of the lake but ranged anywhere from 42-50 degrees in most parts with cooler night-time temperatures keeping the fish lethargic early. 
Saturday mornings temperature was a chilly 32 degrees with a plenty of dampness from the Friday rain still in the air. A cool morning breeze turned into a stout breeze from the north just before noon but then swung around to the West to allow for a pleasant afternoon of fishing with bright sun. Day one results were impressive with boaters weighing 59 fish for 137.95 pounds and co-angler adding another 46 fish for 103.88 pounds. Nine boaters posted limits with Andrew Capps leading with 14.79 pounds followed by Ken Whitfield with 14.57. On the Co-Angler side James Rice lead the way with 12.05 pounds with only 3 fish. He was followed closely by Jon Small with 5 fish for 11.59. On Sunday clear skies made for a cool start with frost on low lying areas but calm winds and bright sun warmed the anglers and the fish up quickly for the last day of the event. The cooler night did seem to slow the bite down for most of the anglers along with some increased boating pressure. Day two results showed boaters bagged 46 keepers for 109.01 pounds while the co-anglers chipped in 35 fish for 84.16. Equally impressive was for the two day event the MO TBF and our anglers returned 186 bass back to the lake alive for a 100% survival rate! Second day stars on the boater side were Brian Maloney with 5 for 15.48 and Carl Metz on the co-angler side with 12.46.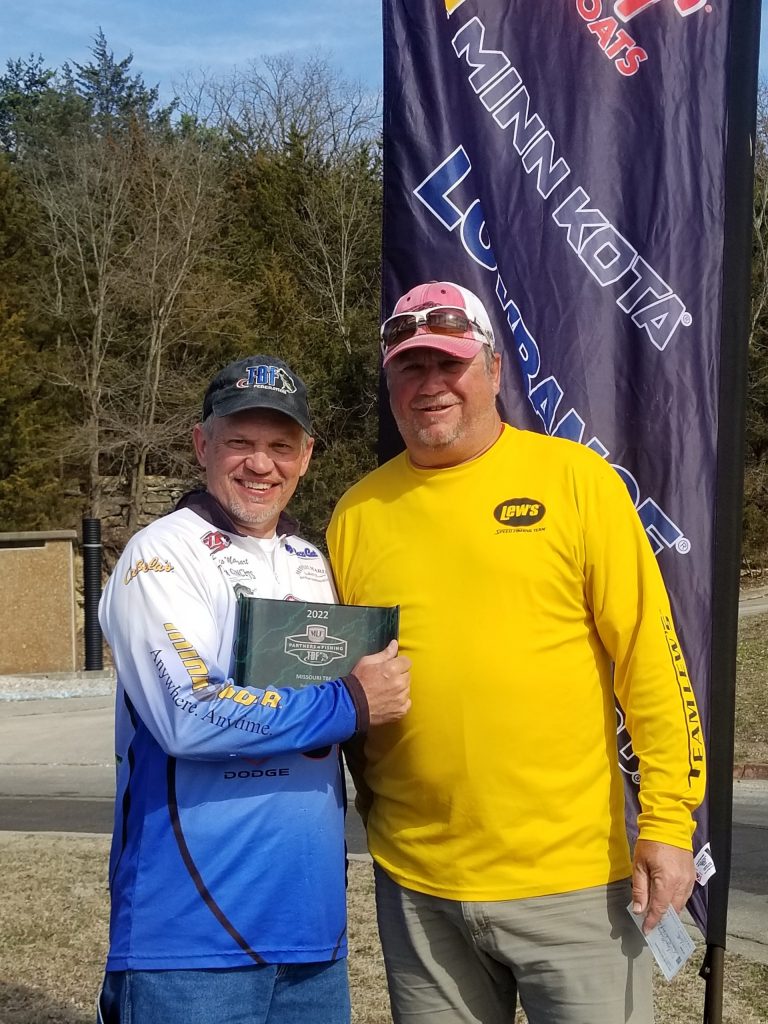 Winning the boater side was the home-town favorite Brian Maloney with a 10 fish limit for 27.93 pounds.  Brian kept his approach simple with a jerkbait in shallow water on secondary points.  Having plenty of options on this lake he made a modest run each day to avoid tournament pressure and find the size fish he knew it would take to win the event.  He also added big bass on the boater side on day two to anchor his sack with 5.65 pounds.  Brian not only received two checks but also is now qualified for the TBF National Semi-Final with a stipend to cover his entry fee!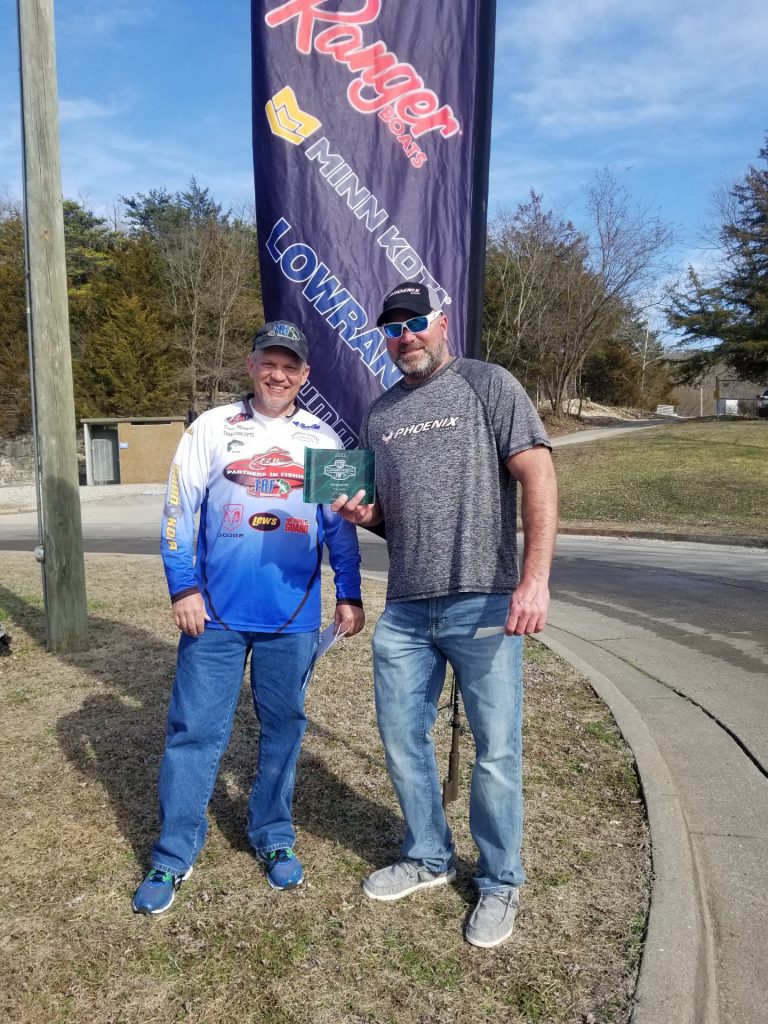 Following just behind Brian in second place was Ken Whitfield.  Falling just short of a limit with 9 fish for 23.67 pounds.  Ken also primarily threw a jerkbait but supplemented it occasionally with an A-rig and jig.  He also ran to find water with the right temperature and water clarity to make these techniques work for a better quality of fish.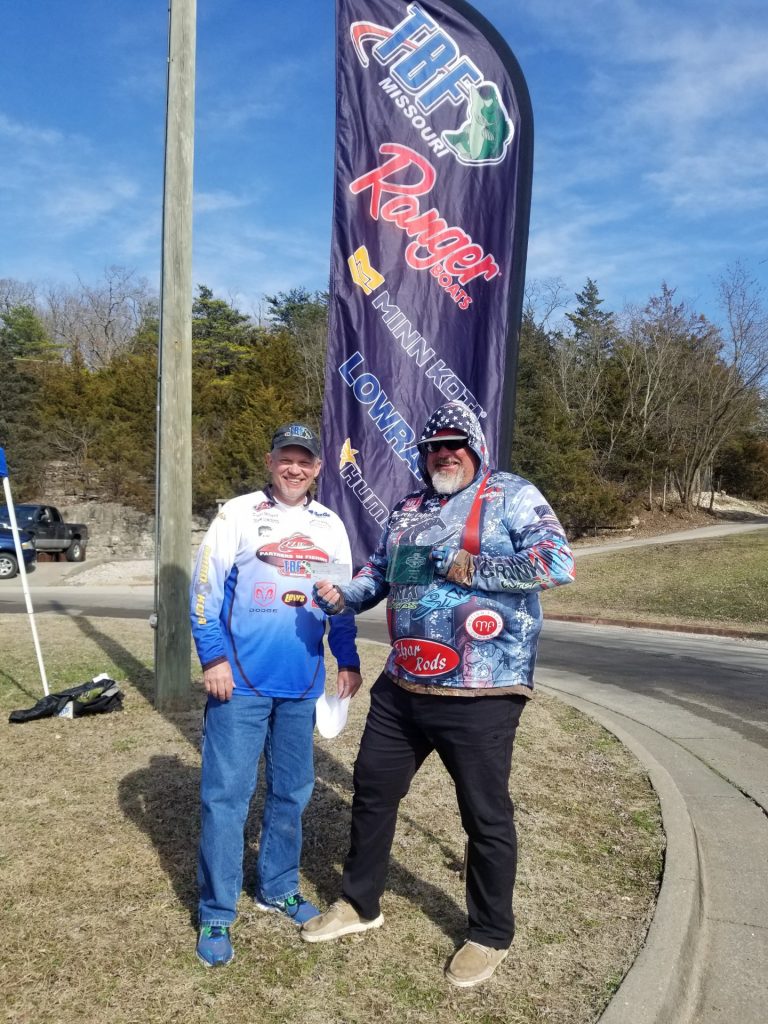 Finishing 3rd in our final guaranteed qualifying slot was local stick Andrew Capps with 8 fish for 23.32 pounds.  Like the other top guys, Andrew threw a jerkbait and A-rig to sack his keepers in the mid-lake area.  Cashing our final check in 4th place was Tom McGovern with 9 fish for 22.17 pounds.  Tom stayed a little closer to take off but added a wobble head jig to his arsenal to add a few key bites.  Also putting nice sacks on the scale was Chris Dougan (8 for 17.7), new-comer Chance Scott (8 for 17.13) and Troy Ladehoff (10 for 16.93).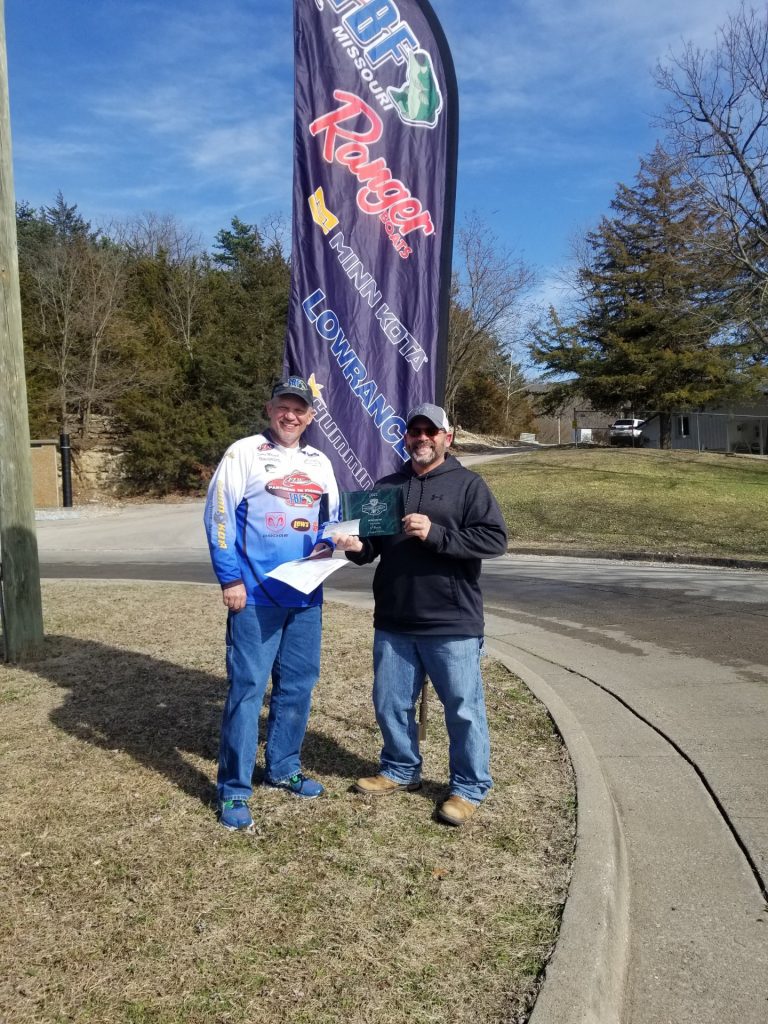 The co-angler field was led by perennial contender Jon Small.  Showing his consistency by bringing 10 keepers to the scale for total of 21.44 pounds.  Jon primarily used his jerkbait in traditional LOZ colors to produce lots of shorts and plenty of keepers to put him on top of a very strong co-angler field.  His bite was very shallow and required a subtle action to produce bites, often on the pause.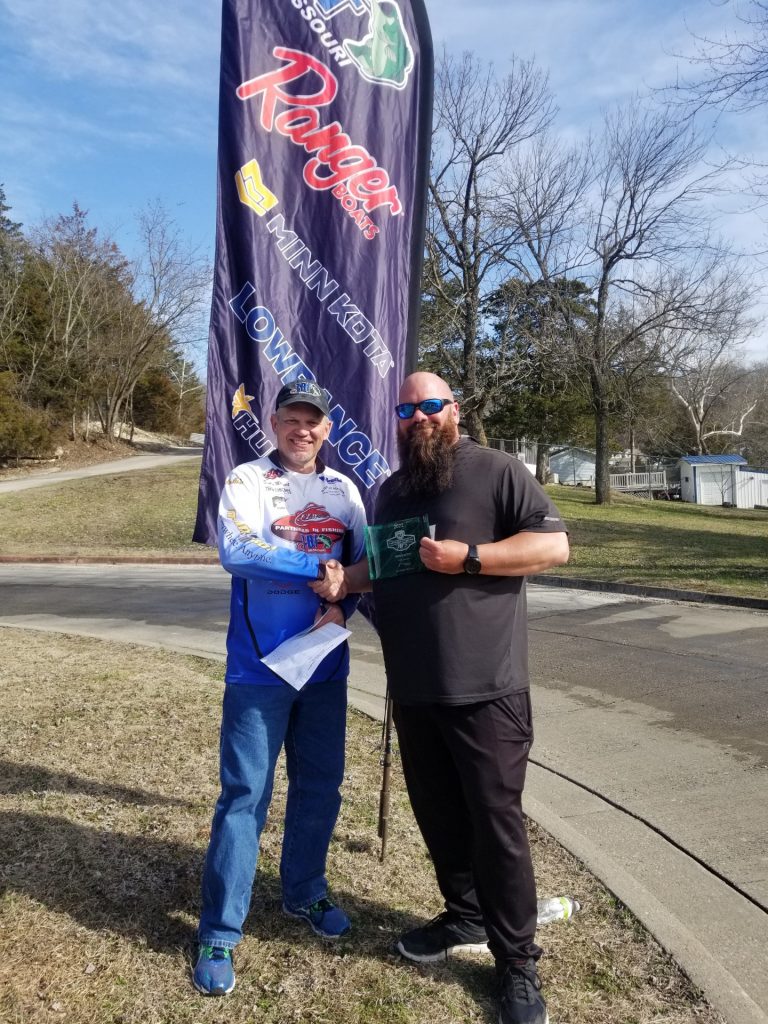 Finishing second was another one of Missouri TBF's consistent anglers, Billy Ray.  Billy said he had 2 great boaters who put him around fish each day.  He was put in a the right position to throw his finesse jig fishing the back of coves on day one and chunky points on day 2.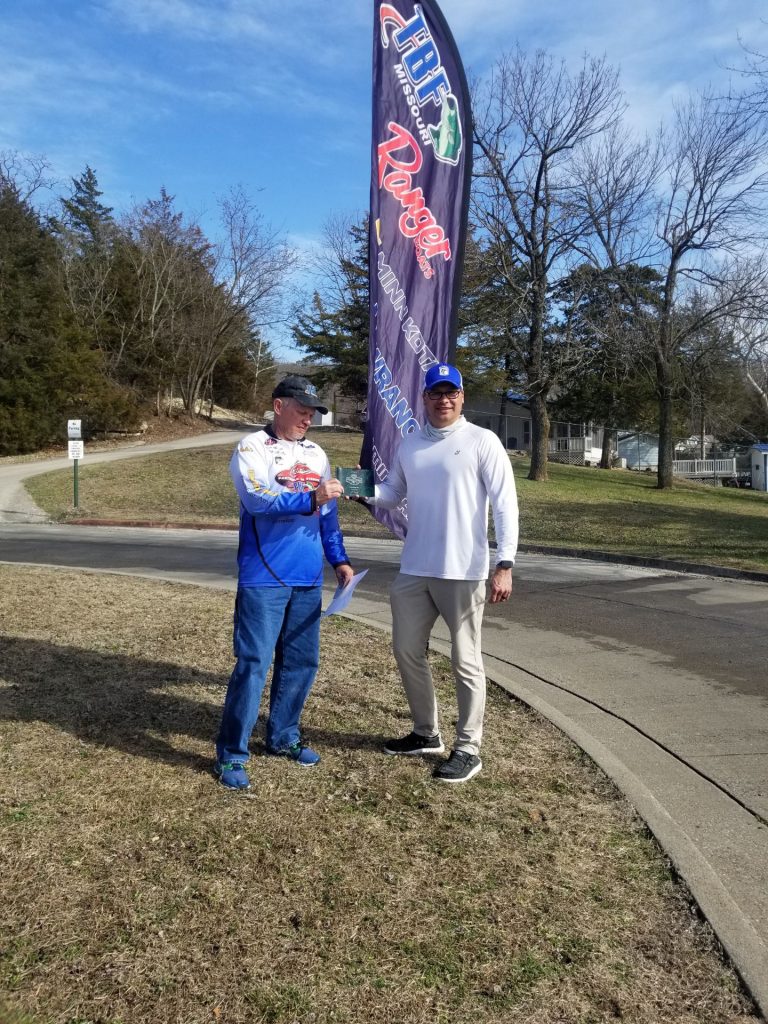 Completing our 3 man state co-angler qualifiers was James Rice. James had 6 keepers but they were the right ones totaling 19.15 pounds, anchored by the big bass of the entire event at 7.07 pounds! James used a jig to catch all his fish on a variety of chunk rock and wood. The big fish came tossing his ½ oz green and purple jig on a laydown in about 10 feet of water.
Several other co-anglers had a strong event with Carl Metz (7 for 18.5), newcomer Jordan Yakel (8 for 17.79), Josh Lippencott (8 for 17.1) and Jasen Morisaki (6 for 15.51) with second day big bass of 6.35 rounding out the field.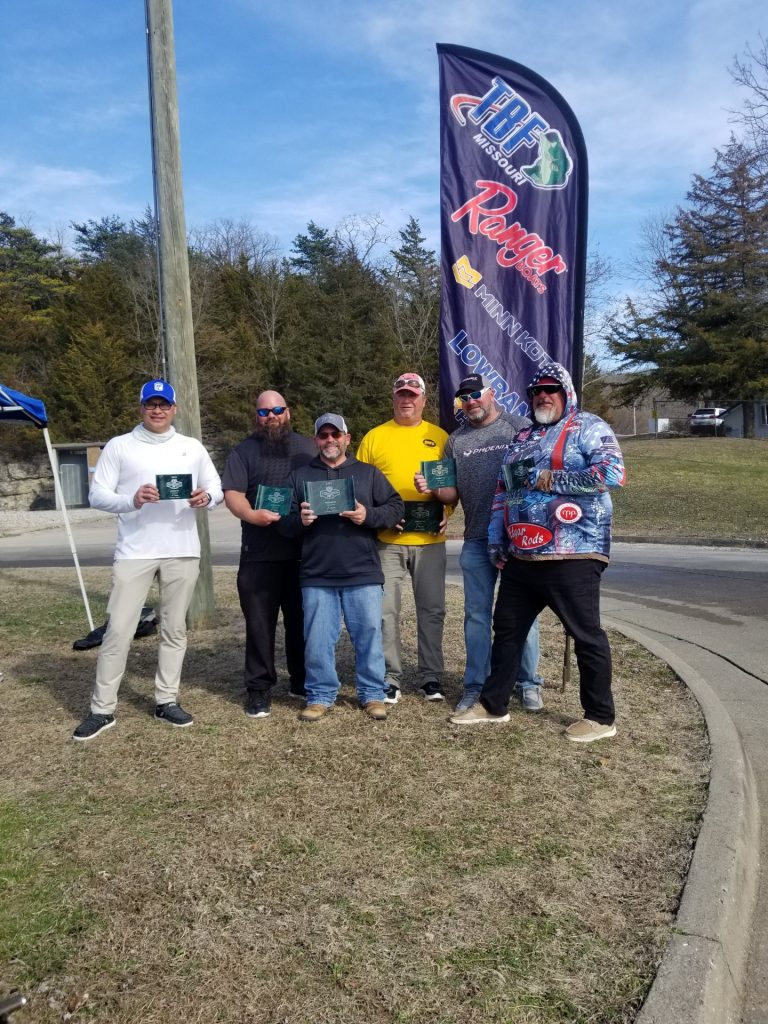 Upcoming Qualifier Tournament
While everyone had a great time at Lake of the Ozarks the Missouri TBF has one more Qualifier left on our 2022 schedule. The second half of our state team will be filled at Stockton Lake on May 14th and 15th. This should be a great event, with a full field and lots of opportunities to fish the type of water you want. The timing of the tournament should also have the fish in pre-spawn, spawn and post-spawn stages based on the area of the lake you choose. This event will also be the last opportunity for anglers to get points towards the AOY award and we expect the competition to come down to the wire again. Our Tournament Director has guaranteed great weather again so please get your entry in early and plan on attending.
The MO TBF Board would like to thank all our sponsors for the support of this event, Ranger Boats, Minn Kota, Humminbird, Lowrance, TH Marine, Berkley, Bass Pro Shops/Cabela's, Wholesale Batteries and Power Pole. Finally, the Board would like to also thank all the anglers for their participation and support of the Missouri TBF. Many of our clubs are also beginning their seasons to pick their club champions, which will fill out our field for the TBF National Semi-Final hosted by the Missouri TBF at Stockton Lake on October 1st and 2nd so good luck to everyone!