Author:  Dennis Maggart
Each year it seems like Truman Lake throws bass anglers a curve ball and TBF's event on June 3rd and 4th was no exception.  Unpredictability is a trademark of this Ozark impoundment with experienced anglers know to be ready for high water anywhere from 2-20 foot above normal pool with moving water and various types of shore cover to explore.  Add in the post-spawn transition and everyone knew this event could be full of surprises, but few expected what we saw as folks checked in for practice on Wednesday-Friday of tournament week.  Unseasonably dry weather has left Truman at "normal pool" all spring with very few large rain events.  This means not only has the Corp not been running at normal spring levels, but water clarity throughout the entire impoundment was at an all-time high.  Water temperatures were rising (72-77 degrees) and fish had the opportunity to roam the entire lake with only minimal influence from minimum water flow.  While these conditions may be typical at some lakes, clear stable water is rare for Truman, especially in June so this truly was a new challenge for our TBF members.
The event launched from Beyonder Marina at Sterrett Creek under clear skies with temperatures starting in the 60's.  The 19 boaters and 16 co-anglers were greeted with clear skies and light wind as they took off for their initial spots.  As the day progressed the sun warmed the air to 87 degrees as wind blew only modestly from the southeast. The stable conditions, clear water and revised tournament schedule at Truman made the main lake patterns very productive for most anglers.  While the water flow at the dam was reduced/shut-off overnight as usual, many anglers were able to take advantage of the light winds and clear water to locate fish on points, rip-rap and brush piles around the main lake.  A variety of top-water baits and soft plastics were productive as the early morning bite was very strong.
Leading the boater field after day one was Jared Knuth who brought 5 fish to the scales for 13.41 pounds.  Jared used his knowledge of the lake to hit spots in all 4 arms using soft plastics and top water.  Just a few ounces behind our leader was Ken Whitfield with 13.27 pounds.  He caught his fish by taking advantage of the unusual conditions hitting main lake points and brush piles using a wide variety of baits from top water to soft plastics, sacking multiple keepers and culling frequently.  Coming in third was Brad Tyer (5 fish for 13.07) was Brad Tyer who also stayed in the main lake using mostly Texas rigged plastics to hit points and rock structures.  Bobby Farmer (11.51) and Matt Peter (10.70) also had nice 5 bass limits to round out the top 5.  Finishing 6th with 4 fish was Darren Woebke (9.81) whose sack included the big bass of the day at 3.81 that was caught early on a popper.
Our top 3 co-anglers all had nice 5 fish limits from the back of the boats in challenging conditions.  Landing on top was Jordan Yakel with 11.56 pounds, followed by Grant Hinton with 10.53.  Rounding out the top 3 was one of our more consistent co-anglers, Gary Martin with 9.04.  Sliding into 4th was one of youngest co-anglers, Grant Simmons with 4 fish for 8.06 pounds.  Also bringing 4 keepers to the scale was our defending TBF Co-Angler of the Year, Billy Ray with 7.93 pounds.  Big Bass on the co-angler's side was caught by one of our newest members, Nick Stokes, with a 3.60 pound post-spawn female.
Day 2 broke with very similar conditions to day one with even lighter winds.  While conditions would appear to be worse for our anglers, we had 6 limits brought to the scale including the 2 biggest bags of the event.  Ken Whitfield was in 2nd place after day one but his second day bag of 17.44 pounds secured him the top overall spot for the entire event and Big Sack honors.  After a slow day 1 Dennis Maggart brought the second heaviest 5 fish limit to the scales (14.39) anchored by Big Bass of the event at 5.35 pounds.  Dennis caught his fish after a big run up the river with a mixture of Carolina rigged and Texas rigged brush hogs.  The third largest bag was produced by Chance Scott, with 13.53, who also used a buzzbait early in the morning over the top of main lake brushpiles and followed up with an Apex Tackle shaky head later in the day.  Coming in with the 4th best sack was Robert Hime () who worked hard covering lots of water using a soft plastic worm, creature bait and swim bait.  Rounding out the top 5 was one of our most decorated anglers, Don Heiser with 5 fish for 10.51.
Second day co-angler results can often be unpredictable but one of our most accomplished anglers showed up at the top again with Jon Small weighing in 5 fish for 15.29 (our second biggest sack of the entire event).  Following up his 5th place finish on day one was Billy Ray, weighing in 5 fish for 13 pounds even.  Next up was our day one leader, Jordan Yakel with 5 fish for 12.35.  Rounding out the top 5 was Gary Martin with 12.09 and Grant Hinton with 10.31 showing remarkable consistency from our field of co-anglers.
Boaters:  Ken Whitfield – 1rst Place, Robert Hime -3rd Place, Chance Scott – 2nd Place
The TBF Truman Lake Qualifier was an overwhelming success, with 204 fish caught for 454.84 pounds with over 96% returned alive to the lake to bite another day. Ending up on top of this very talented boater field was Ken Whitfield with a dominating total of 30.71 pounds.  Finishing second was Chance Scott with 22.43 pounds. Chance would like to thank his sponsors Apex Tackle, Denny Dennis Sporting Goods, Diawa USA, Crank Wraps and Bojangle Baits.  Rounding out our top 3 and landing the final qualifier spot for the upcoming TBF National Semi-Final this fall at Wilson Lake was Robert Hime with 20.57.  Also with strong finishes was Dennis Maggart (20.02), Jared Knuth (19.79) and Brad Tyer (19.69).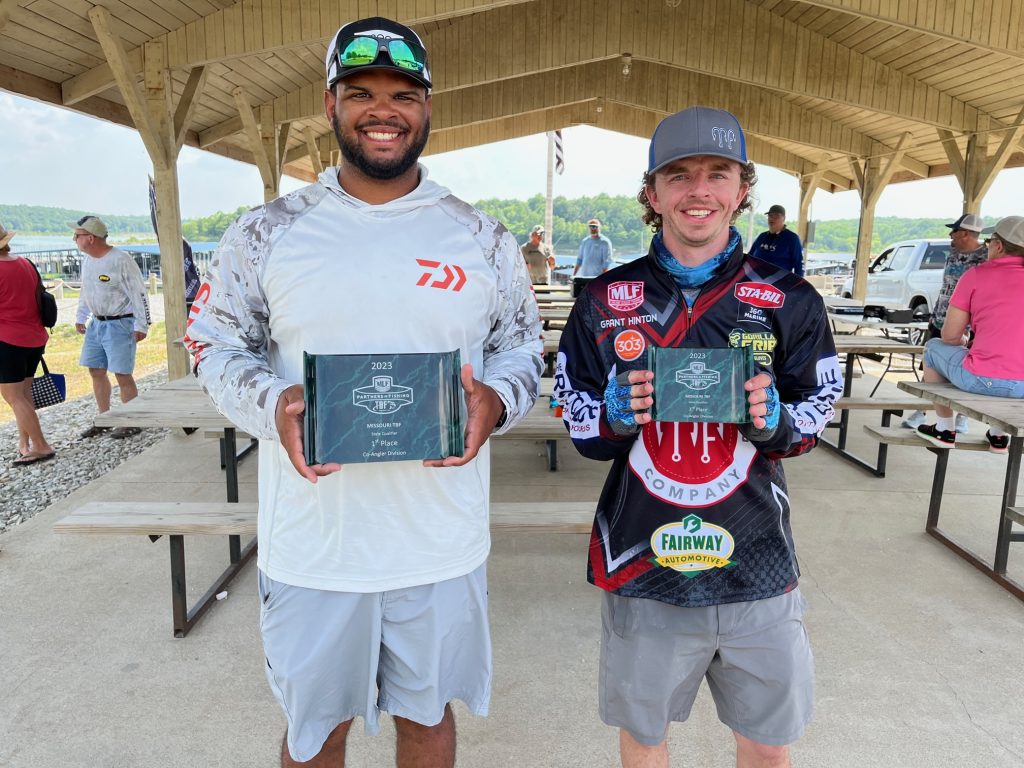 Co-anglers:  Jordan Yakel – 1rst Place, Grant Hinton – 3rd Place, Billy Ray (absent heading to work) – 2nd Place
Truman Overall Results Summary: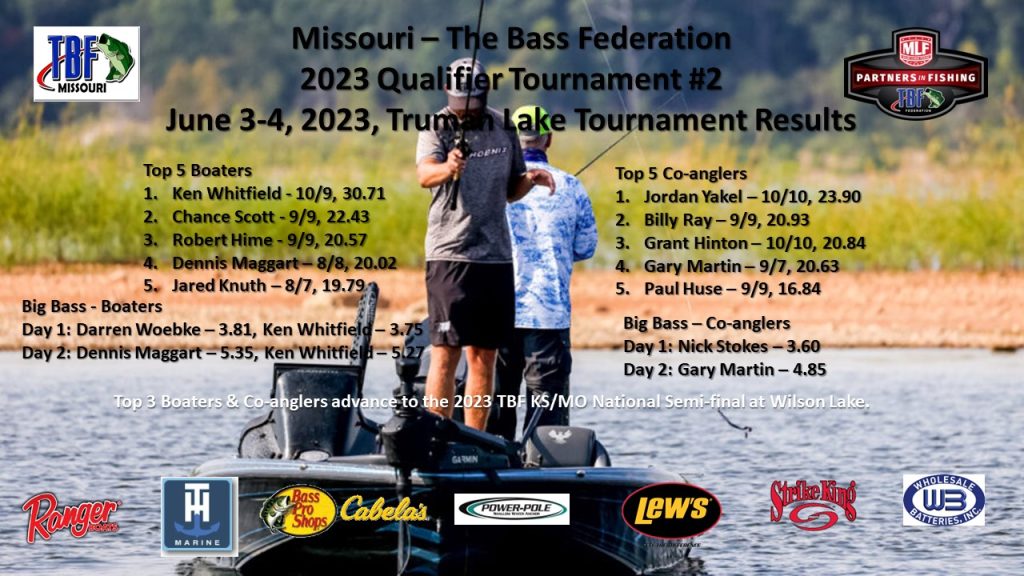 Angler of the Year
The Missouri TBF wrapped up their season with the event at Truman Lake which means that the final Angler of the Year totals are in.  As in the past, the race was extremely close on the boater side with the first 4 places being separated by less than 4 points.  Finishing on top was Robert Hime with 388 points after a consistent finish at both Table Rock and Truman Lake.  Robert is a very experienced angler and utilized that experience to perform at two very diverse fisheries.  In both events he worked hard to cover water and locate fish using a variety of tactics geared to the changing conditions.  His 4 day total was just one fish short of a limit with 19 fish for 46.31 pounds and included both large mouth and spotted bass. Finishing second via tie breaker was Tim Merkh with 384 points followed by Chance Scott and Dennis Maggart, also with 384 points.
The co-angler side was dominated by Jordan Yakel, finishing only 2 points shy of the maximum (398 points) as a result of his 2nd place finish at Table Rock and his 1st place finish at Truman Lake.  Jordan is one of our most talented young anglers and is destined to be a threat to repeat this honor in future years.  Finishing second was one of your most decorated co-anglers Gary Martin, with 394 points resulting from top finishes at both events.  Third place was taken by our defending champion, Billy Ray with 388 points.  There was a 3 way tie for 4th place resulting in a tie-breaker finish of Paul Huse, Grant Simmons and Jon Small. Each of these co's had strong events and will likely be in this competition for many years to come.
This event concludes the Missouri TBF schedule for 2023.  We could not hold these events without the help of volunteers and sponsors.  We would like to thank our Tournament Director, Jon Small and Board for their help at the weigh-in. Our sponsors are also critical to our success and we want to thank Ranger Boats, Bass Pro Shops, Cabelas, Power Pole, Lews, TH Marine, Wholesale Batteries and Strike King.  The next step in the TBF for our anglers is the TBF National Semi-Final, hosted by the Kansas TBF on Wilson Lake September 30-October 1st.  The Board would like to congratulate all the Qualifiers for the state team and the club champions who will be representing Missouri TBF at this event.  We look forward to seeing you at Wilson!!