Author: Dennis Maggart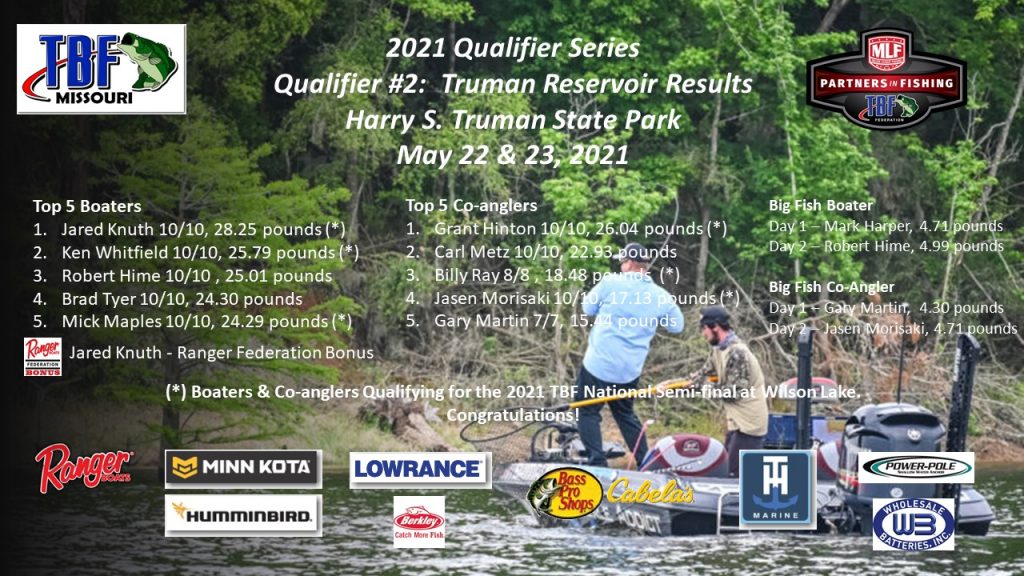 Changing Conditions and Seasonal Patterns Dominate!
Harry S. Truman Reservoir can be one of Missouri's most varied and challenging lakes for bass anglers and the second Missouri TBF Qualifier was no exception. Twenty-nine anglers hit the water May 22-23rd for the last two-day Qualifier hoping to advance to the TBF National Semi-Final later this fall. Anglers were greeted in practice with wet conditions and rising water on Thursday and Friday. The lake was about 18 inches above normal pool to start the week but steady rain and only average discharge at the dam meant that water levels rose to almost 4 feet high by Sunday. Rising water along with mud from the run-off changed pre-tournament conditions and challenged the anglers to adjust. With muddy conditions up the Grand and Osage the main lake bush bite turned on as the water rose, while the Pomme arm remained fishable for those that chose to venture upriver. With the bass in various stages of the spawn due to fluctuating spring weather and water temps it created a PhD level test for the anglers on Truman.
Thursday and Friday's weather was wet which limited the practice opportunities for the anglers but helped prepare them for the take off on Saturday. Mild temps of 66 degrees with clouds and showers greeted the anglers at take-off along with variable wind from the south at 10-13 mph. Rain was steady till about noon allowing for a pleasant weigh-in (79 degrees). Day one results were solid with Mick Maples leading the pack with 5 fish for 14.89 followed by Jared Knuth with 12.61 and Mark Harper with 12.59 and big bass of 4.71. Overall, the boaters produced 8 limits with a total of 65 fish for 141 pounds! On the co-angler side Grant Hinton lead the way with an impressive sack of 5 fish for 13.16 pounds. He was followed by Gary Martin at 11.80 (and big bass of 4.3) and Carl Metz with 11.48.
Sunday's weather was a welcome relief from the prior 3 days of rain. With calm winds and a brisk low of 64 degrees the day slowly brightened up to a sunny afternoon with highs of 83 degrees. While this post-front conditions can sometimes make the bite tough, the rising water and steady current at the dam kept the fish biting for most of the anglers. Jared Knuth followed up his first day success with a second day limit of 15.64, followed by Robert Hime 15.47 (and overall big bass of 4.99) and Ken Whitfield 14.06. Our boaters bagged 12 limits on day 2 with 67 fish for 160.46 pounds. Grant Hinton doubled up on the co-angler field leading Sunday's co-anglers with 12.38. Carl Metz and Jason Morisaki also had solid bags with 11.45 and 10.52 pounds respectively with Jason landing the big bass of the event on the co-angler side at 4.71 pounds!
Our winner on the boater side was Jared Knuth who put together two solid days, weighing in 10 fish for a total of 28.25 pounds.  Jared fished up the Pomme where the water was less stained.  Using topwater baits on Saturday he had a total of 8 keepers.  On Sunday, the top-water bite faded after sun-up, so he switched to a Strike King creature bait to finish with 5 solid keepers.  Jared concentrated on channel swing banks and back water flats to produce the larger keepers it takes to win an event like this. Jared is also a Ranger Awards Qualifier and will take home some additional cash from our friend at Ranger for his top finish.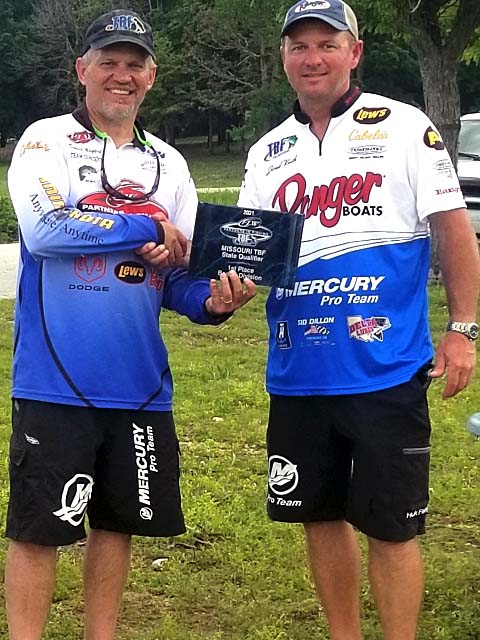 Second place on the boater side went to Ken Whitfield who sacked 10 keepers for a total of 25.79 pounds over the 2-day event. He fished the Tebo arm and upper Pomme using a top-water bait and secret plastic creature bait to cull through 7 keepers on Saturday and 12 keepers on Sunday! His pattern consisted of mostly back water areas where he looked for cover that would hold post-spawn fish.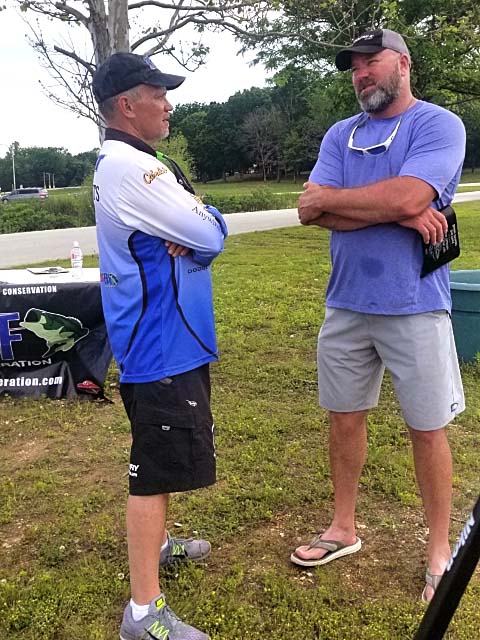 Rounding out the top-3 was Robert Hime who brought in 10 bass weighing 25.01 pounds. Like most of the successful anglers, Robert used a buzzbait and popper on Saturday to land 5 keepers. On Sunday, he adjusted to the conditions by moving away from the topwater bait after the early bite and switched to a Senko to cull through 10 keepers.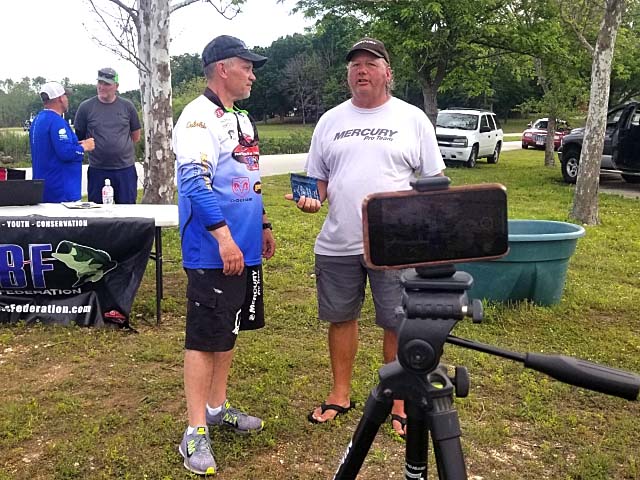 Other boaters who finished with strong showings were Brad Tyer (10 fish for 24.3) and Mick Maples (10 fish for 24.29). Since both Brad and Robert Hime had previously qualified for the National Semi-Final at our Table Rock event, Mick is the 3rd automatic qualifier from this event. In addition to the top 5, Kevin Johnston (21.45) and Mark Harper (20.57) had 10 fish limits for the event and were in contention till the end.
Dominating the co-angler field for the event was Grant Hinton who led both day one and day 2 weigh-ins with a total of 10 fish for 25.54 pounds. Grant had 2 great boaters who put him around fish where he landed 7 keepers on day one and 6 on day two. He used a 3/8 oz tungsten shaky head with a variety of green pumpkin worms/stick baits to boat his fish.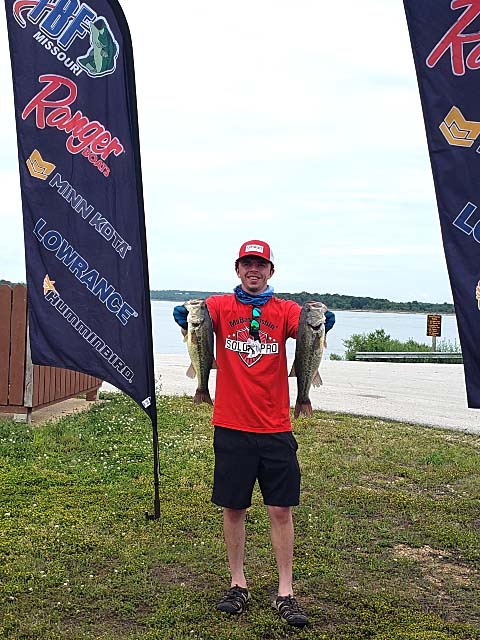 The second-place co-angler also presented 10 keepers to the scale, Carl Metz. His 2-day total of 22.93 pounds was equally impressive given the divergent pattern of his 2 boaters. Carl used a combination of jigs and shaky head stick baits to adjust to the stained and clear water conditions presented to him by his boater on Saturday and Sunday.
Finishing in 3rd for the event was one of our newer anglers, Billy Ray. He landed 8 keepers for 18.48 pounds. He had 2 great boaters who helped him work a combination of shaky head and Texas rig presentations to land his fish. Rounding out the top 5 in were 2 of our veteran co-anglers Jason Morisaki with 17.13 pounds (and our 3rd qualifier) and Gary Martin with 7 fish for 15.44 pounds.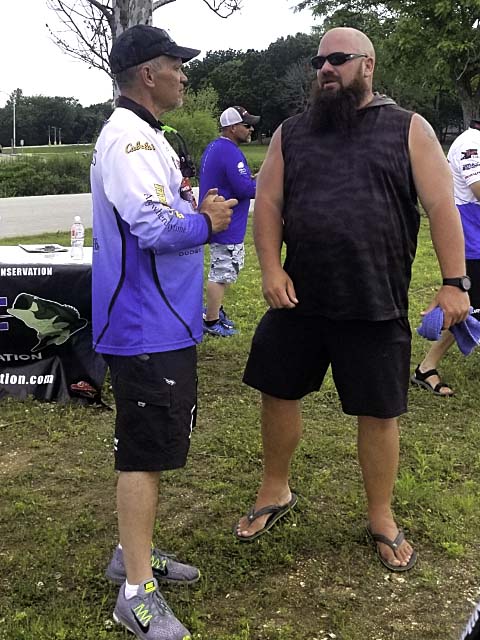 Angler of Year
As our final event of the year, Truman also closed the book on the 2021 Missouri TBF Angler of the Year race. Following up a strong Table Rock finish (1st) with a solid performance at Truman (4th) lead Brad Tyer to the boater Angler of the Year crown for 2021 (394 points). Brad landed solid limits each day providing both consistency and quality while culling through multiple keepers at each event. Finishing a close second in back-to-back years is Robert Hime (392 points) who also had 20 keepers over the 4 days of competition. Rounding out the top 3 was Mick Maples (380 points) who gutted out both events and delivered under a variety of conditions.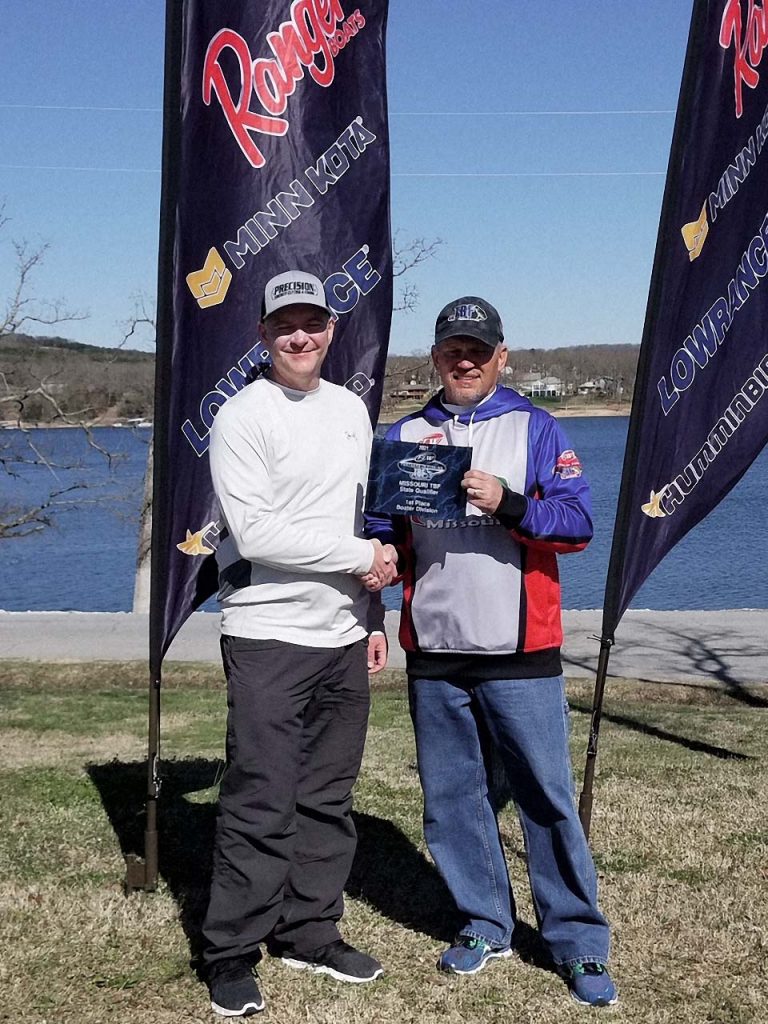 The Co-Angler of the year race was won this year by Carl Metz (394 points). Carl had great performances at both Table Rock and Truman to edge a strong field of co-anglers. Finishing second with 382 points was Paul Huse and rounding out the top 3 was Jon Small (380 points). Each of these co-anglers had to meet the difficult challenge of fishing a wide range of water behind a different boater each day. Rising to this challenge takes a unique set of skills and these competitors rose to the challenge each day.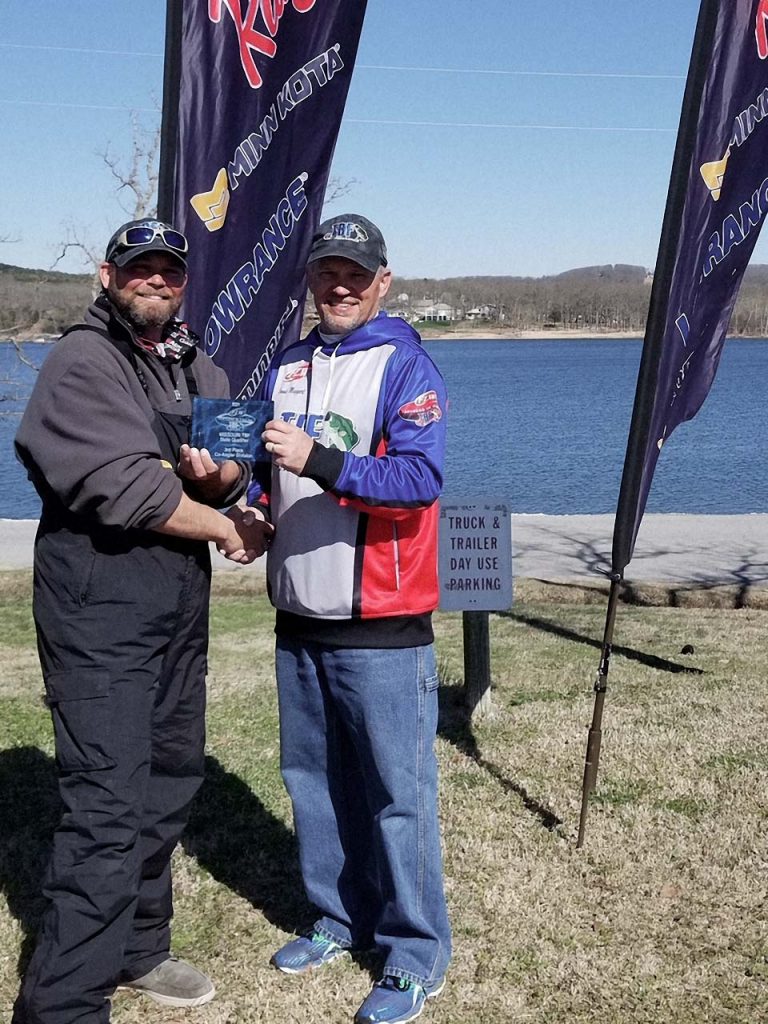 The MO TBF Board would like to thank all our sponsors for the support of this event, Ranger Boats, Minn Kota, Humminbird, Lowrance, TH Marine, Wholesale Batteries and Power Pole. Finally, the Board would like to also thank all the anglers for their participation and support of the Missouri TBF. While this is our last MO TBF state-wide event many of our clubs still have local tournaments scheduled in the next few months. As club champions are crowned, we will be filling out our roster for the upcoming TBF National Semi-Final at Wilson Lake on October 2-3rd so stay tuned for more exciting news from MO TBF!