Changing Spring Conditions Challenge Adult and Youth Anglers at First Joint Event
What's the saying about the best laid plans?  Anyone familiar with scenic Stockton Lake knows it supports a very healthy population of all three native species of Missouri bass.  When this event as scheduled for the middle of May with a full-moon the following week, members began dreaming of site-fishing for big spawning bass in crystal clear waters on the main lake at Stockton.  As is often the case, Mother Nature had a different plan and after a cool early spring conditions changed dramatically in the days leading up to this final event.  Normal spring lake conditions with lake levels elevated about 3 feet was followed by a week of heavy rains raising the pool another 9 feet in 4 days!  This not only changed the color of the water but made much of the bank inaccessible, with a tangle of flooded bushes, floating wood, and sawdust/pollen debris in many pockets.

Stockton MOSAF High School Award Ceremony
These were the conditions that greeted our field of 15 boater and 13 co-anglers along with several High School and Junior teams that were holding their joint event with us at Stockton.  The weather continued to be a challenge with the first real heat wave of the season on Wednesday and Thursday with highs in the 90's, raising water temperatures rapidly through the 70's throughout the lake.  While the water clarity was changing constantly, the conditions were fishable on the main lake and throughout most of the river in practice.  Weather on Saturday was cool with an approaching front with clouds and thunderstorms complicating the event on Sunday.  Unfortunately, Mother Nature also has an evil ally in the form of the Army Corp of Engineers who changed the water discharge throughout the event making the river less fishable and requiring anglers to adjust their game plans.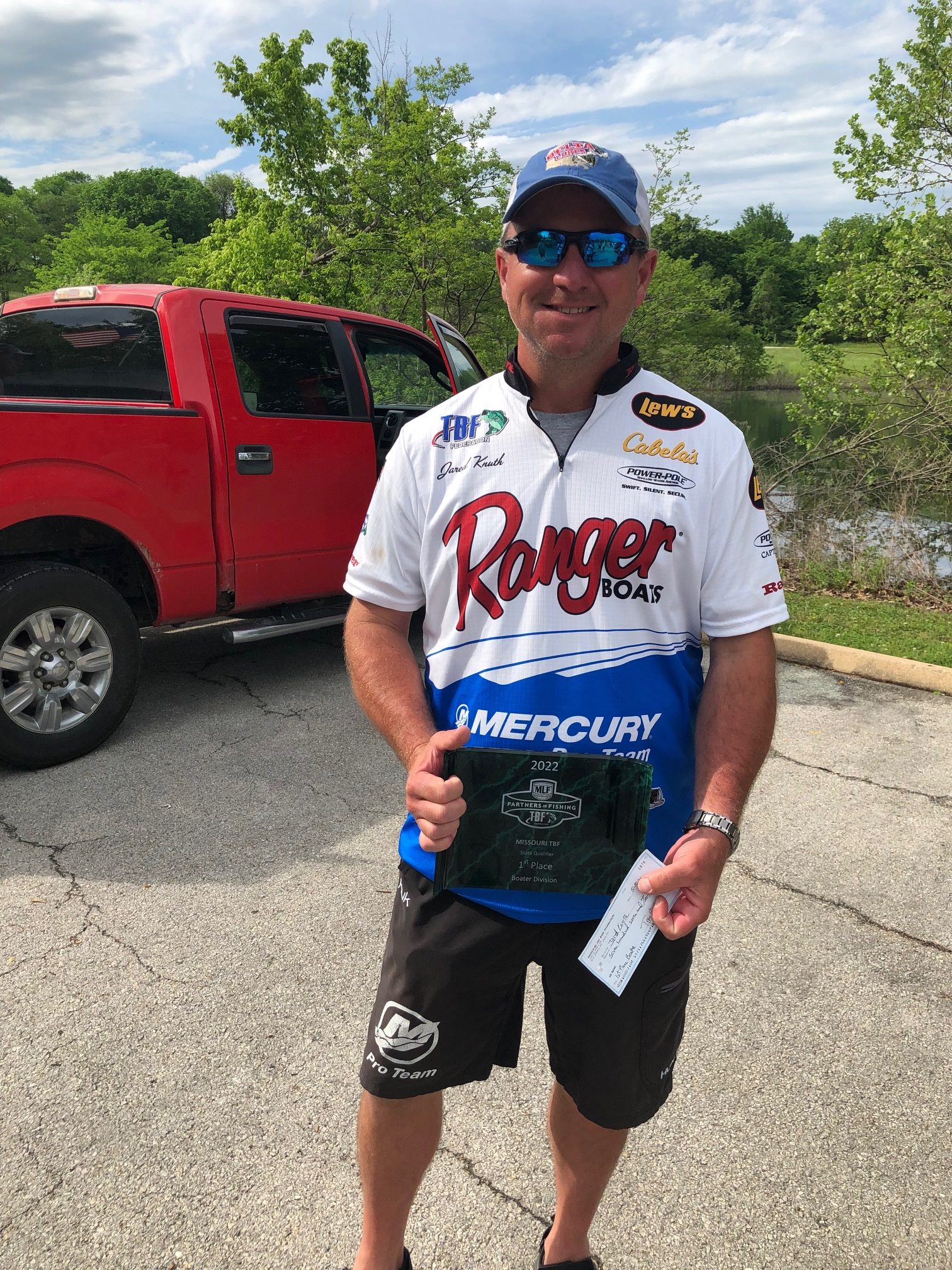 Jared Knuth,  Boater First Place
While the Missouri TBF dreamed of a tournament with multiple fishing patterns producing big sacks, one pattern turned out to dominate the event and that was true for our winning boater, Jared Knuth. Jared is a past National Qualifier and no stranger to the leader board at these events and he put together the most consistent performance in the field.  He weighed the second biggest sack on day 1 with 5 fish for 11.53 and followed that up with a second day total of 12.70 for a winning two-day total of 10 fish for 24.23 pounds.  Jared put together the winning pattern quickly by flipping soft-plastic creature baits in flooded bushes near the dam and in mid-lake coves.  His bite required a steady approach with bites coming throughout the day.  He targeted bigger fish that seemed to be nearer the bank which required a strategic approach and skillful presentation.  He had several shorts each day with 5 keepers on Saturday and 7 on Sunday supplemented with a last keeper falling to a buzz bait in the cloudy overcast skies.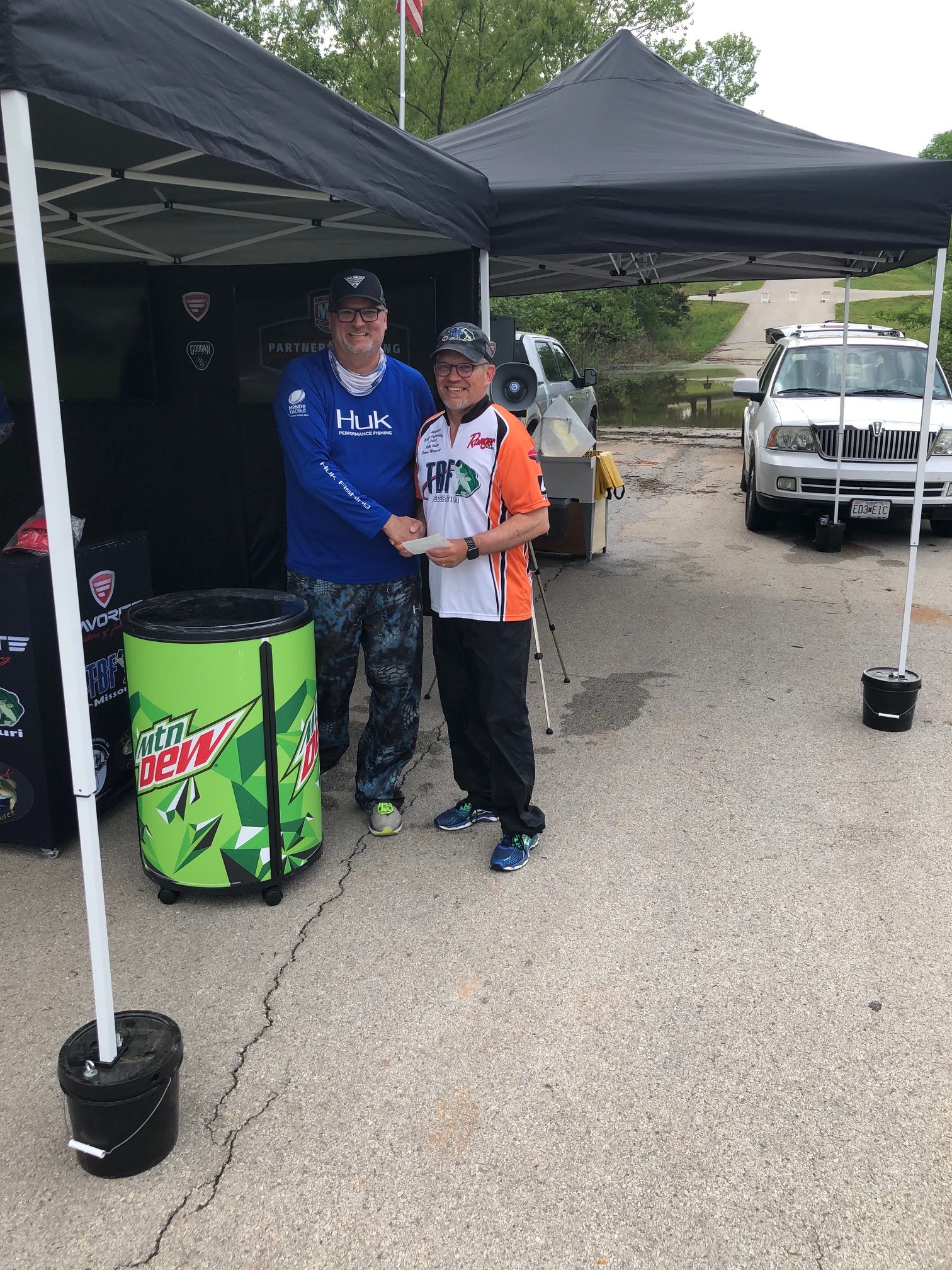 Dennis Maggart,  Boater Second Place
Finishing second in the event was Dennis Maggart who took advantage of the curves thrown by the weather to come back strong on day 2 and pass some less fortunate anglers.  Dennis began Saturday fishing up the river but after 5 hours with no bites he finally adjusted his plan and found cleaner water in the mid-lake area to scratch out a small 3 bass sack on Saturday that put him in 6th place.  On Sunday he continued his pattern of flipping green pumpkin creature baits in bushes and hardwoods near the back of spawning cuts.  This adjustment paid dividends in the overcast conditions and produced a 5 bass limit of 11.86 for a two-day total of 17.54.  He also landed the big bass on the boater side for day 2 with a 3.78-pound fish that bit his creature bait off a clump of hardwoods in about 3 feet of water.  In these tough conditions Dennis was fortunate to have a couple of great partners in the back of the boat in Jason Morisaki and Patrick O'Neal to help with lure recovery, boat salvage and fish netting.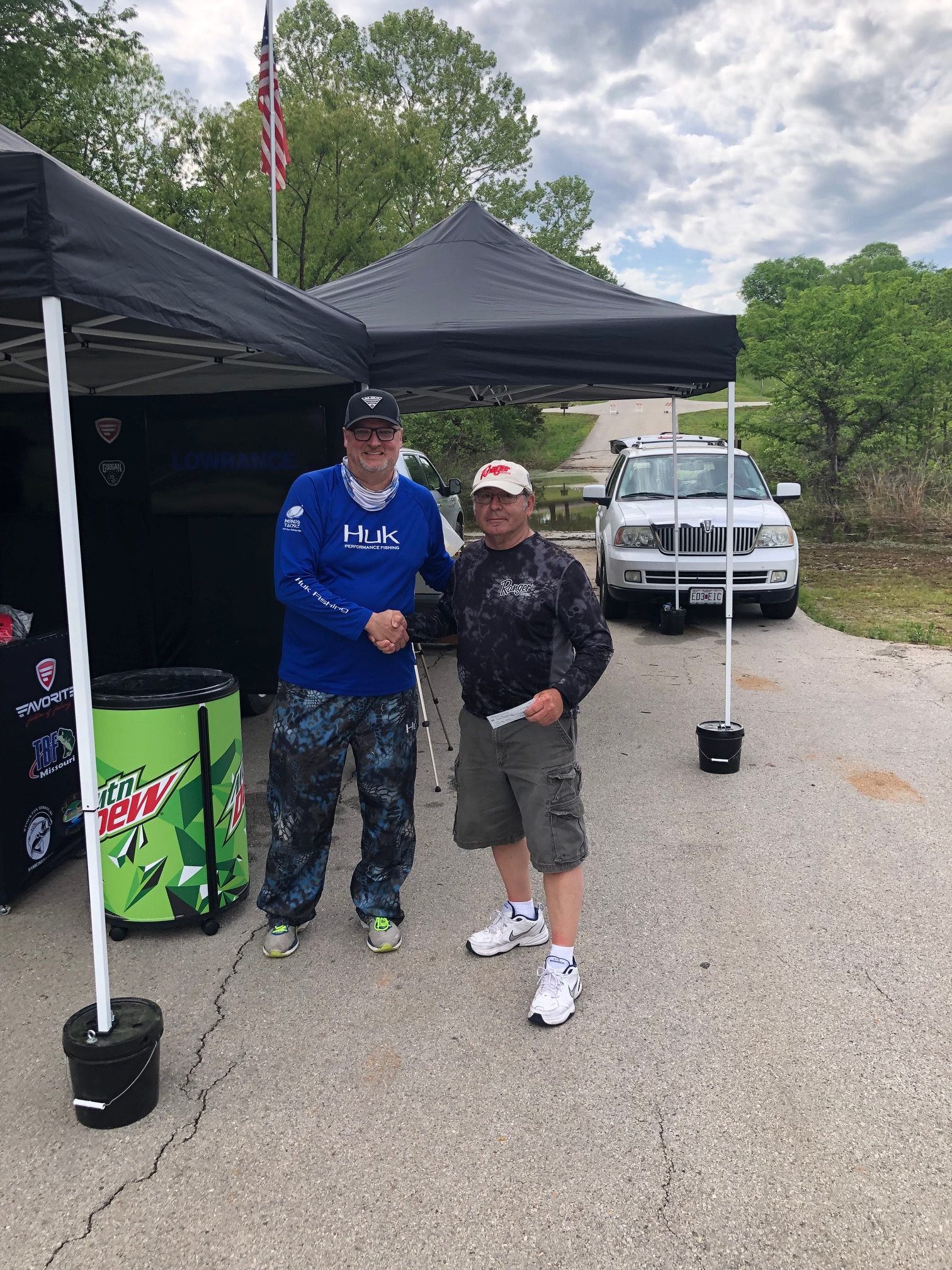 Don Heiser, Boater Third Place
Rounding out the top 3 qualifiers for the event was Don Heiser.  As most of you know Don is one of our most accomplished anglers and that experience came in handy with the changing conditions at Stockton.  After a rough day of practice, he made some changes and immediately caught fish on Saturday with an early limit from flipping bushes of 10.93 pounds, good enough for third place going into Sunday.  He followed that up with a smaller 4 fish sack on Sunday for 6.44 but that gave him the margin he needed with 16.87 to hang onto 3rd place by a slim 2 hundredths of a pound!  Like all the top finishers Don was flipping bushes with a creature bait in the back of mid-lake coves and cuts.  Other anglers that had good performances and just missing out on the automatic qualifying spots were Brad Tyer, our reigning State Champion, with 16.85, Jess Stewart with 15.32, and Mick Maples with 13.83.  Big bass from Day 1, and overall big bass went to Jerry Lovell on Saturday with a 5.64-pound bass that fell for a green creature bait early Saturday in a green bush on a main lake point.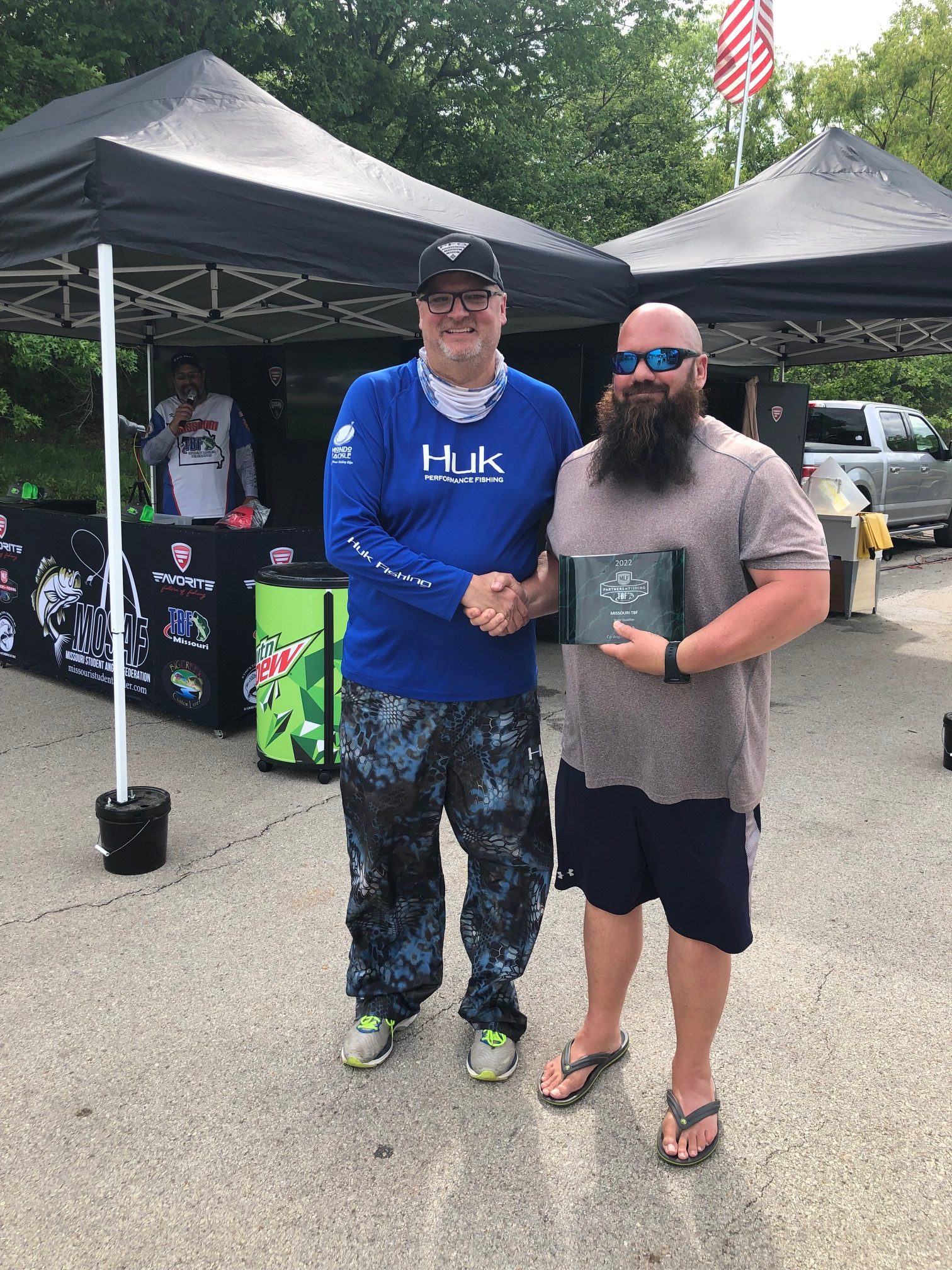 Billy Ray, Co-Angler First Place
Leading our Co-Angler field was Billy Ray, a repeat qualifier from our event at Lake of the Ozarks in March.  Billy was consistent with a day one sack of 9.85 to lead the field, to finish with a total of 12.51 pounds.  His sack was anchored by the big bass on the co-angler side on day one of 4.19 pounds.  Like the rest of the field Billy was flipping a soft plastic bait in the flooded bushes.  While this pattern seems obvious, co-anglers know that flipping these baits in tight cover while someone else runs the trolling motor is a whole different challenge.  Looking for open windows and less obvious holes that may have been missed by the boater requires a special skill and Billy proved to be the most proficient.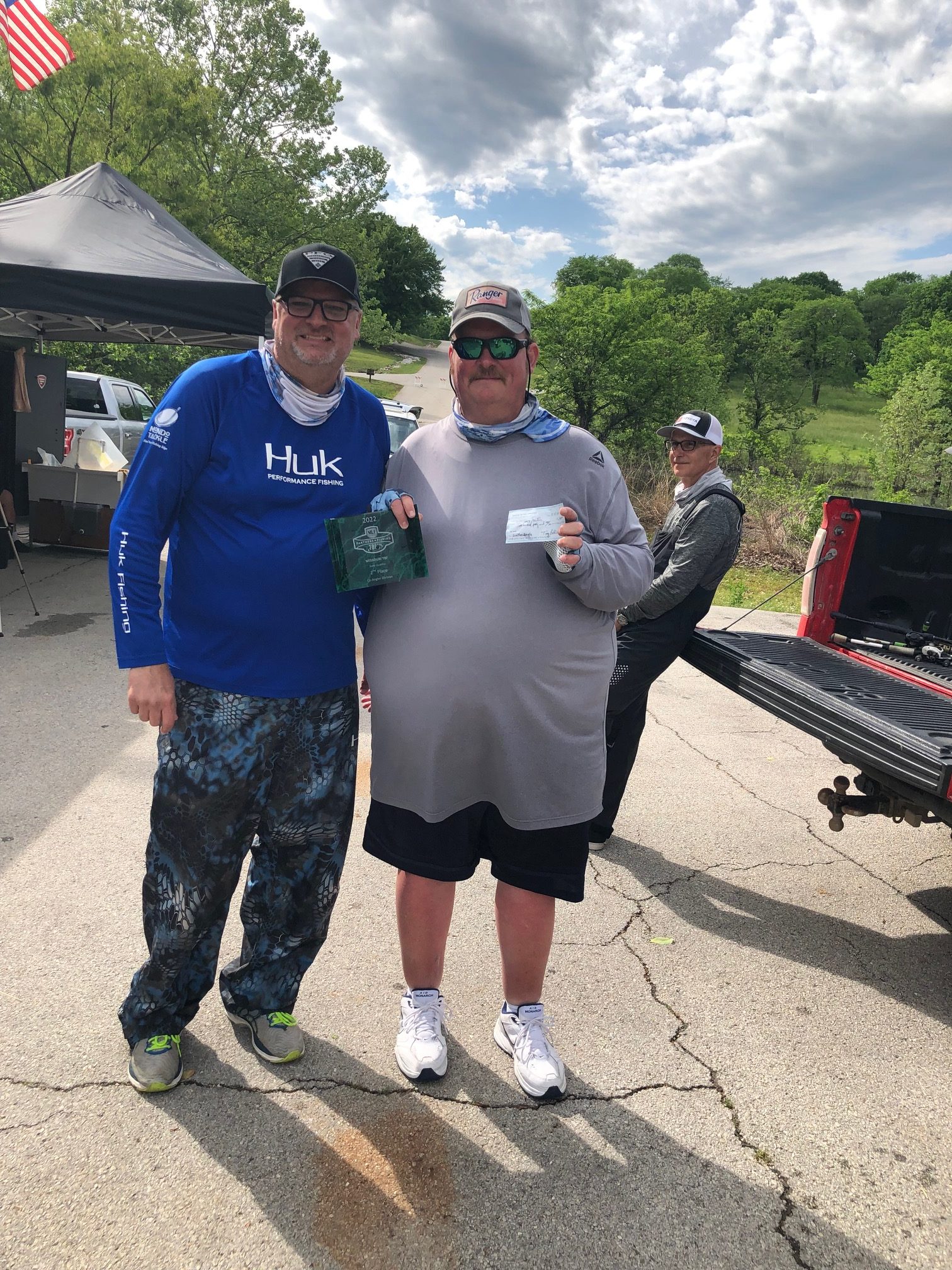 Gary Martin, Co-Angler Second Place
Finishing second was one of our most consistent and skilled co-anglers, Gary Martin.  He has proven to be a master at many techniques but really excels in flipping and that skill proved invaluable in these conditions.  Gary caught nice bags each day (5.30 on day one and 5.04 on day two) for a total of 10.34 pounds.  In addition to qualifying, Gary also took home big bass honors on day two for the co-anglers with a 3-pound largemouth!
We are all excited to see that our final co-angler to qualify from the field is also our youngest and newest member, Grant Simmons.  While Grant may still be in High School, he was anxious to get on the water and learn more about tournament fishing. With the advice of two of our best boaters (Mark Harper and Don Heiser), Grant learned quickly and after a rough first day came in with the second biggest sack on the co-angler side of 9.4 pounds to charge into third place.  Following the lead of his boaters Grant flipped soft plastic baits into the bushes and used his experience landing fish from his kayak to boat his keepers and punch his ticket to the TBF National Semi-Final.   Finishing 4th in this event was John Kelley with 7.27 pounds, and since Billy Ray was already qualified from our first event, he will also be moving on to the TBF National Championship.
Angler of the Year
Since this is the last of Missouri TBF's two national qualifiers we can now set our team for the TBF National Semi-Final and crown our angler and co-anglers of the year.  Our state team is made up the top 3 boaters and co-anglers from each event.  Each of the team members received a payout at their event and is eligible for a stipend to cover their entry into the National Semi-Final at Stockton in October.   Our boater team includes Brian Maloney, Andrew Capps, Ken Whitfield, Jared Knuth, Dennis Maggart and Don Heiser.  The Co-angler team is made up of Billy Ray, Jon Small, James Rice, Gary Martin, Grant Simmons, and John Kelley.
This year our angler of the year goes to Ken Whitfield.  After finishing 3rd at Lake of the Ozarks he was able to complete the task with a solid performance at Stockton to accumulate a total of 388 points.  This allowed him to lead a very tight field with Troy Ladehoff finishing just behind with 386 points and three other anglers (Robert Hime, Brad Tyer and Chris Dougan) at 384.  Ken is one of our hardest working and most analytical anglers and deserves this award.  His is a consistent threat at all our event venues and is a great ambassador for the Missouri TBF.
The co-angler of the year was won by Billy Ray.  Since joining our group a few years ago, Billy has quickly proven that he has the skills necessary to catch fish and stay in front of a loaded co-angler field.  Billy led the field with 2 strong events totaling 391 points.  This allowed him to outpace prior champions Jon Small (391 points) and Gary Martin (388 points) along with Clayton Sansoucie (388 points).
We would like to thank all our sponsors for their support this year; Ranger Boats, Lowrance, Humminbird, Minn Kota, Bass Pro Shops, Cabelas, Wholesale Batteries and Power Pole.   Most importantly we would like to thank our members who make all these event's fun and enjoyable.