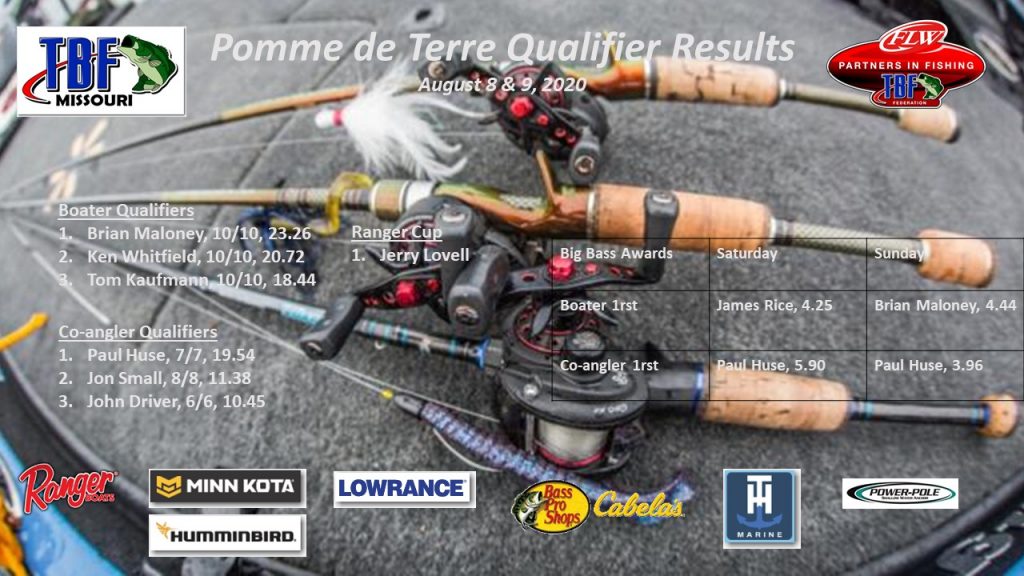 Unusual Summer Weather Challenges Anglers
Weather is the dominant variable in bass angling and mother nature threw a curveball to the Missouri TBF anglers at Pomme De Terre for our last Qualifier of the year. The changes started the week before with temperatures dropping to near record lows at night along with heavy rain. This brought the lake up almost 2 feet, muddied the water and dropped the water temperature over 10 degrees in just a few days. With the water temps now near 80 degrees in most places, the traditional deep brushpile bite disappeared, and anglers had to scramble to find fish.
Pomme usually offers very clear water at this time of year but the rains before and during the tournament created a riddle and an opportunity for both the boaters and the co-anglers. Early practice showed some suspending fish and schooling action as bass chased shad in open water, but this proved this bite proved elusive during the tournament. The feedback from anglers during practice was that there was also a shallow bite coming on up both arms, and while the size of the fish was variable the number of bites presented an opportunity for those that were willing to wade through lots of 10-12 inch shorts to find 5 bigger fish. A bigger bite was available on the main lake but the challenge would be catching a limit so anglers had to choose a strategy and try to coordinate that with the weather forecast if they were to be competitive.
Saturday started early with a prompt 6:00 AM take off as thunderstorms approached.  A total of 15 boaters and 12 co-anglers charged off hoping to beat the rain to their first stop.  A steady rain continued for most of the morning, but we were fortunate not to have the usual high wind and lightening that usually accompanies summer thunderstorms.  The field split up with some running far up the Pomme De Terre River arm while others headed towards the Lindley arm with a few anglers opting for the mid-lake coves and points. Steady rain stuck around for most of the morning with partial clearing around 10:00 A.M.  Air temperatures were pleasant for this time of year with a high of around 84 in the afternoon.  Sunday's forecast called for extremely hot and muggy conditions with clear skies and highs of 96. Never were a group of anglers happier to see a meteorologist miss a forecast then we were on Sunday when the day turned out cloudy again with off and on sprinkles and moderate and variable winds.  These clouds kept the temperature down to the mid 80's again and showers showed up again just as weigh-in was underway!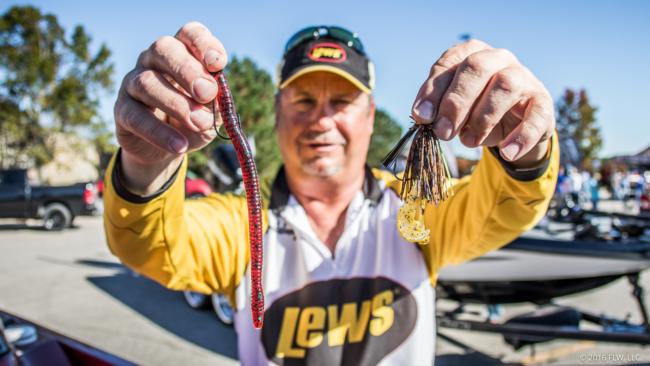 It is no surprise to anyone that the angler who made the best adjustments to these variable weather conditions was multiple state qualifier Brian Maloney. After a smaller limit on Saturday Brian followed up with the big sack of the event on Sunday to take home first place. He bagged at total of 10 fish for 23.26 pounds along with Big Bass on the boater side, a 4.44-pound kicker on Sunday. Managing the MDC's "no cull" limitation was an added challenge each day and made his total weight even more impressive. Brian caught his fish in the dirtier water up the Pomme arm using a baby brush hog (Tilapia color). He focused on stumps in just 2-3 feet of water on Saturday but found better fish on Sunday as the water dropped and they moved out to pole-timber in just slightly deeper water in the same section of the river.
Another angler who made the long run up the Pomme river each day finished second, Ken Whitfield. He made the longest run each day and braved some very skinny, falling water to find his fish. He was not intimidated by the muddy water and caught his 10 fish limit of 20.72 pounds on a combination of buzzbaits, monster worms and squarebills. He focused on laydowns and stumps in 2-10 feet of water as he navigated a shad choked section of the river.
Rounding out our qualifiers was Tom Kaufmann, who managed a 10 fish limit of 18.44 pounds despite the no-cull restrictions and major boat troubles on Sunday. While Tom ran the other direction up the Lindley arm, he fished very similar shallow, stained water to complete his limits. Tom used a buzzbait but most of his fish came on a squarebill in 1-4 feet of water in the back of coves. Several other anglers had strong finishes but ended up just out of the cut with Tom McGovern finishing 4th with 18.34, Kevin Johnston 5th with 16.31 and Kenny Shinn 6th at 15.17.
The co-angler standings were also not a surprise with Paul Huse taking first place with 7 fish for 19.54, anchored by the big fish of the tournament at 5.9 pounds! Paul was coming off a tournament win the prior week at Pomme so he came in to the event on a roll and continued his shallow water pattern to win the last TBF Qualifier. He threw a combination of smaller contact baits such as a 5/16 oz ball head jig and green pumpkin brush hog to coax bites. The dirty water did not deter him from using these smaller presentations since the fish were shallow both up the river and in backs of mid-lake pockets. His 5.9-pound lunker fell to the small brush hog about 10:30 A.M. Saturday on a channel swing bank in the river in about 5 feet of water and quickly surrendered to take the long ride back to the ramp.
The second-place co-angler is a regular contender on the co-angler side and a double qualifier this year, Gary Martin. He ended up just one fish short of a double limit with 9 fish for a total of 16.63 pounds. His day one pattern consisted of topwater baits on bluff walls and dragging a big worm in brush piles on the main lake. As mentioned above, Sunday's weather was surprisingly similar to Saturday so he caught his first 2 keepers on top water then waited until the last 15 minutes of the day to land his last two fish dragging a plastic worm on laydowns.
Third place angler Carl Metz was another double qualifier from Stockton.  He scaled 7 fish for a total of 12.49 pounds.  Like most anglers Carl was on a shallow bite pattern of soft plastics and squarebills.  Troy Richter, another qualifier from Stockton finished 4th with 12.11 pounds also fishing shallow with a senko and chatterbait.  Since our second, third and 4th place anglers were already qualified the last 2 qualifying slots went to Jon Small in 5th at 11.38 and John Driver in 6th at 10.45.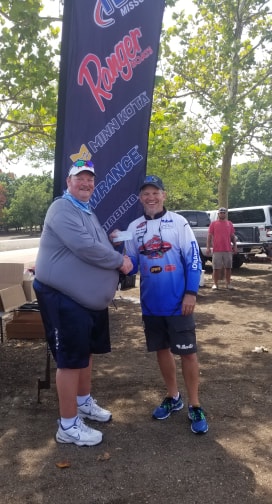 Since the Pomme De Terre Qualifier represented our last Qualifying event it also was the end of an extremely tight Angler of the Year race. Squeaking out the win on the Boater side on the third tie breaker was Dennis Maggart (378 points, 18 fish and 37.33 pounds), edging last year's winner Robert Hime (378 points, 18 fish and 36.81 pounds). Completing the top 5 were Tom McGovern 3rd, Trace Hannaford 4th and Kenny Shinn 5th. Finishing first on the Co-angler side for the second year in a row was Gary Martin (396 points and 19 fish) but this year he needed a tie breaker to nip Carl Metz (396 points and 17 fish). Rounding out the top 5 was Paul Huse 3rd, Troy Richter 4th and John Driver 5th. Congratulations to all our Angler of the Year contestants and thanks for such an exciting race!
The MO TBF Board would like to thank all the participants for the patience and support this year.  In order to keep all the participants as safe as possible during this pandemic the anglers were subject to some modified tournament procedures at all of our events.  We really appreciate everyone's patience during this unusual year and apologize for the lack of current photo's that usually accompany this article.  Hopefully 2021 will return to normal and we can add the usual social activities to the events and enjoy the entire MO TBF membership.   The State Team and Club Champions will now be preparing for the TBF National Semi-Final September 19th and 20th at Truman Lake. We have an exceptionally strong team this year and I am sure we are going to be able to bring the District 7 crown back to Missouri.