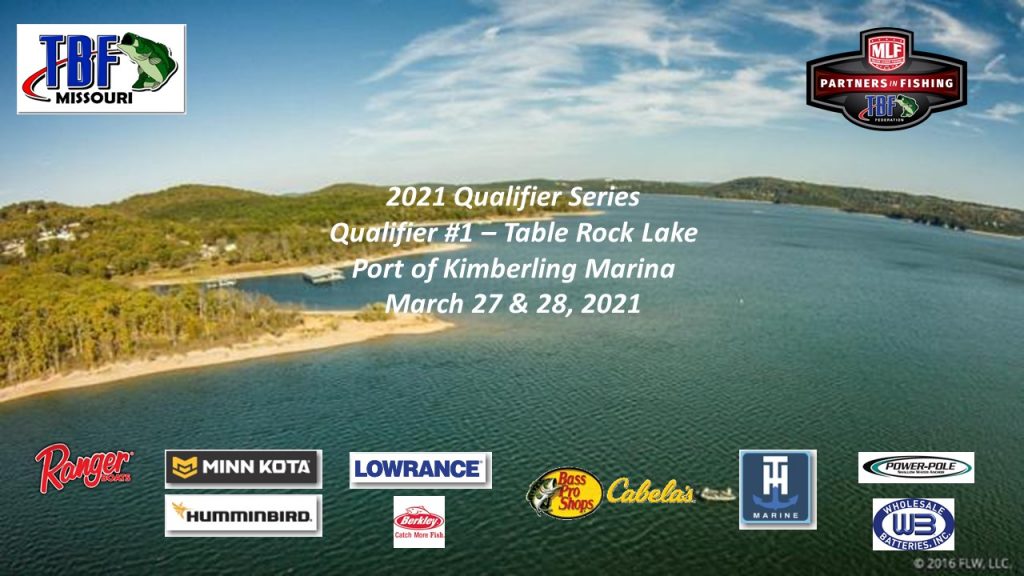 Ideal Spring Weather Makes for a Great Event!
Author: Dennis Maggart
Table Rock Lake is one of the crown jewel's of the Ozark Impoundments and Mother Nature cooperated with some very nice spring weather for the Missouri TBF's first Qualifier the weekend of March 27th and 28th. Taking out of Port Kimberling meant the entire lake was available to the anglers, even with other anglers and recreational boaters hitting the water for their first taste of spring weather. As is typical with the spring, a series of warm fronts followed by showers and cold fronts had put the fish in transition but with a strong population of Smallmouth, Largemouth and Spotted bass Table Rock provided the anglers with a range of options along with significant variables in their efforts to find and stay in contact with their fish.
Table Rock usually offers very clear water but the spring rains provided stained run off in some of the river arms, letting anglers fish several sections of the lake to coordinate with their preferred technique. Afternoon water temperatures varied based on this water clarity from 47 to 55 degrees with lower nightly temperatures cooling off the lake each night. A fast moving cold front washed out some of the practice time on Thursday followed by bright skies on Friday and Saturday with air temperatures hitting 70 degrees on Saturday afternoon. A second smaller cold front passed later Saturday providing a brief shower and cooling temperatures off for the second day. Fish were being caught throughout the lake on a variety of baits but by Saturday it was clear that the Alabama Rig was going to be the dominant bait for most anglers. Baits and presentation varied based on the water clarity, but the A-rig was providing the most consistent bite for both numbers and size. Some fish were still being caught on jerk baits in clearer water nearer the dam and some shallow fish were still be hooked on Rock Crawlers in traditional crawdad colors.
Saturday morning came bright and clear with calm winds and warmer overnight temperatures. Takeoff was promptly at 7:00 AM to take advantage of our mid-lake location. A total of 17 boaters and 15 co-anglers blasted off hoping to beat the other tournament anglers to their best spot. Most of the field chose to stay close to the take-off with a solid bite in the mid-lake area but a few braved the boat traffic to run further up the river to more stained water. A few anglers reported a solid early bite but as is typical in the spring, the bite really picked up once the sun came up and began to heat the water. Anglers concentrated on main lake and secondary points to ambush staging fish that were just starting to think about entering the spawning coves.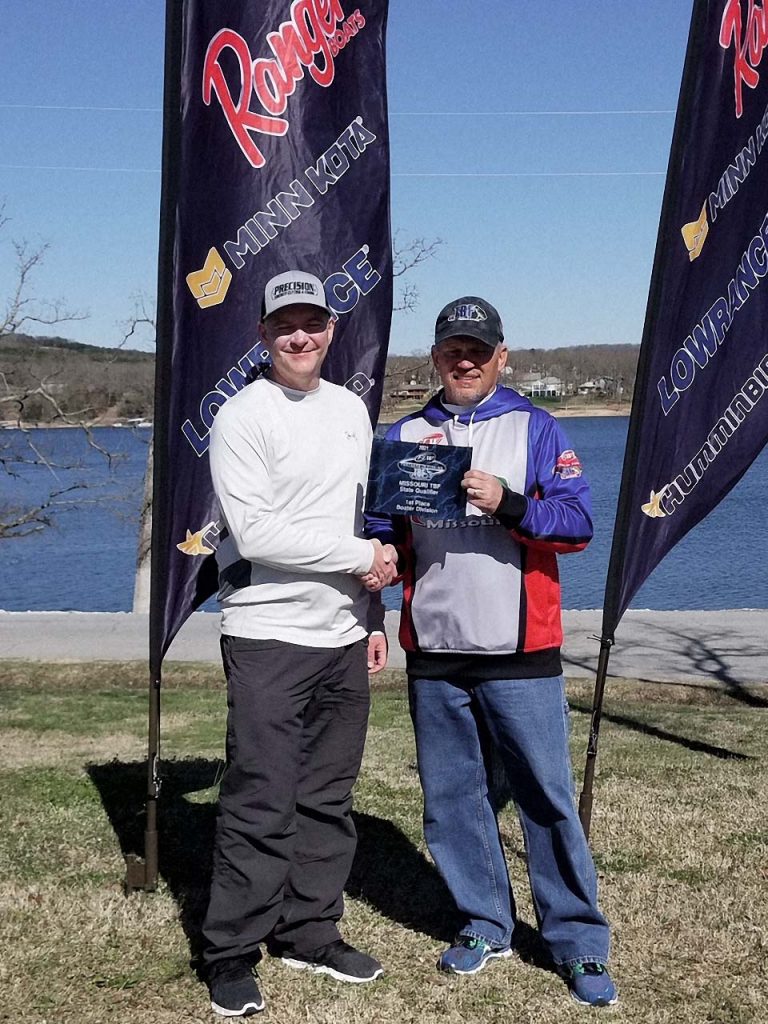 With an Alabama Rig bite on it was predictable that the top spot on the boater side would go to Brad Tyer. Brad was an early adopter of A-rig fishing and has consistently been competitive in winter and early spring tournaments in these Ozark impoundments over the last several years. He concentrated on the mid-lake area where the larger fish were biting to finish out his day one bag at 13.47 and followed it up with a better sack on Sunday of 14.86 for a total of 28.33 pounds. Brad culled through multiple fish each day but knew he was around the kind of fish he needed to win a two day event. He bagged at total of 10 fish along with a 4.33 pound kicker to round out his sack. He focused on wind-blown secondary and main lake points with a Flash Mob Junior rig using shad colored swimbaits.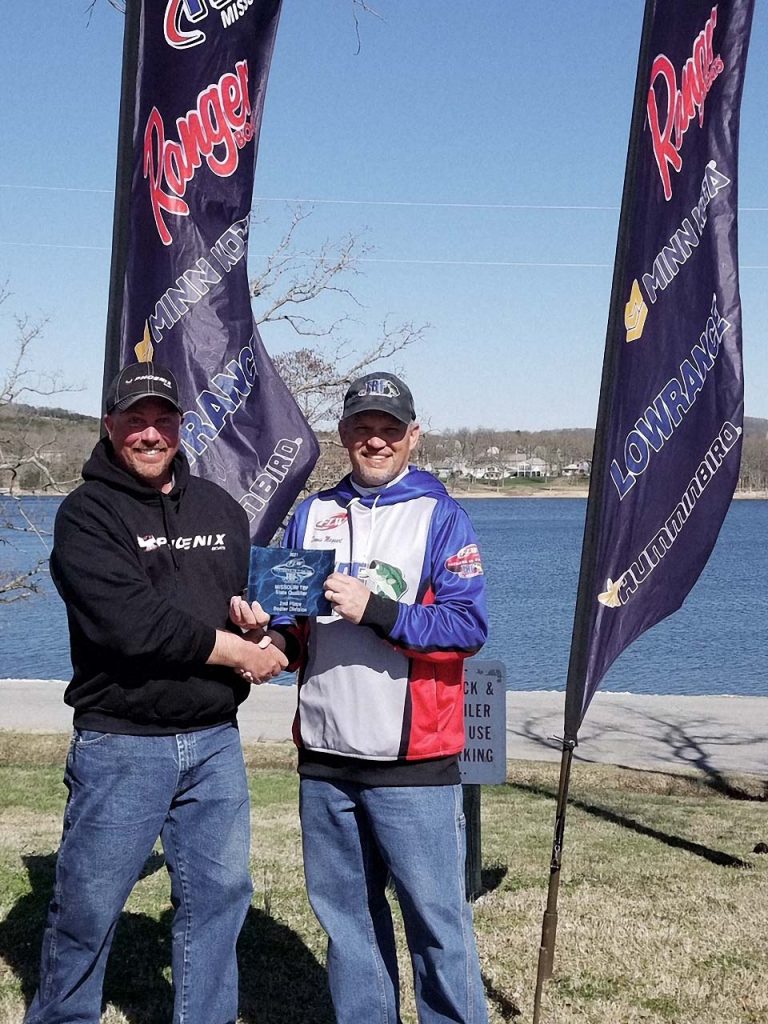 Finishing second on the boater side was Tom Kaufmann. Using a strong second day charge he was able to move up and snag second place with a total of 10 fish for 26.73 pounds. Tom used an A-rig to bring a solid 5 fish day limit to the scale (9.71) but made a key adjustment on day two to bring in the largest daily bag of 17.02 on Sunday to charge up the leader board. Using the wind to his favor, Tom made a switch Sunday morning to a jig that produced his impressive sack. The wind and watercolor were similar to the conditions he had fished before in the spring and knew that the jig bite could come on. Picking up a ½ oz jig in brown craw color he landed several big fish on Sunday and left some to bite for his co-angler too.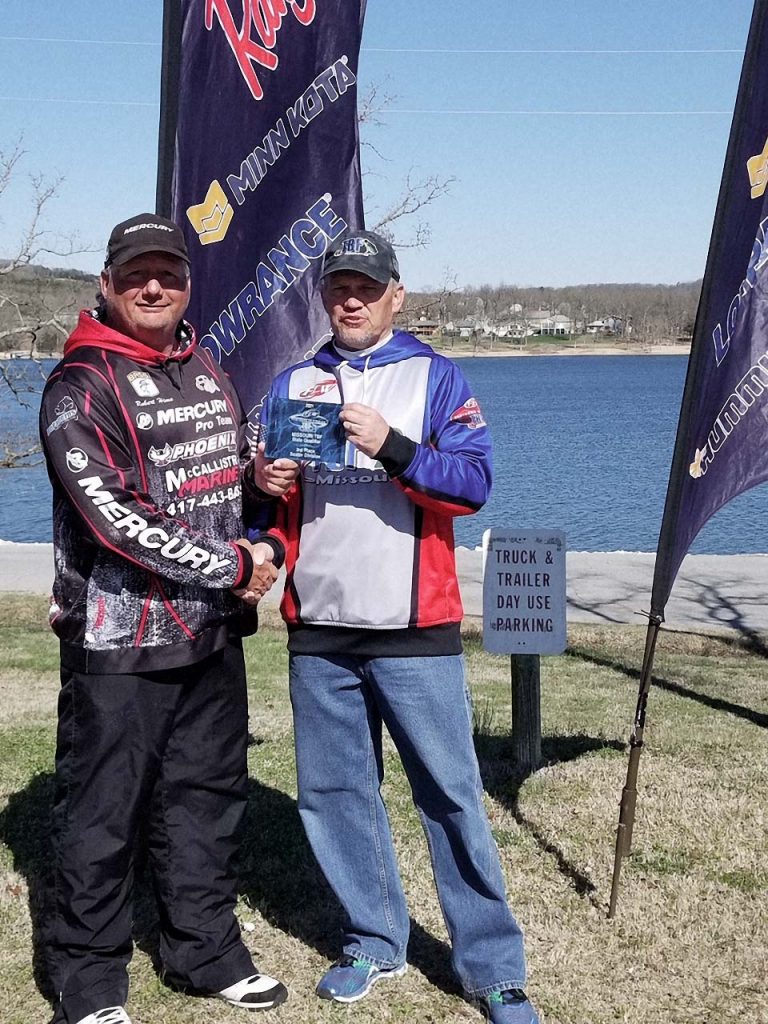 Rounding out our qualifiers on the boater side was another perennial contender, Robert Hime with 21.78 pounds. He used an A-rig on Saturday along with a single swimbait on bluff walls to cull through multiple keepers to get to a 5 fish bag of 11.12. Sunday required a big adjustment for Robert as the wind made the bluff walls tough to fish with the swimbait. Like all good anglers, Robert adjusted and found the fish inside the main lake pockets and was able to catch a limit for him (10.66) and his co-angler using the A-rig.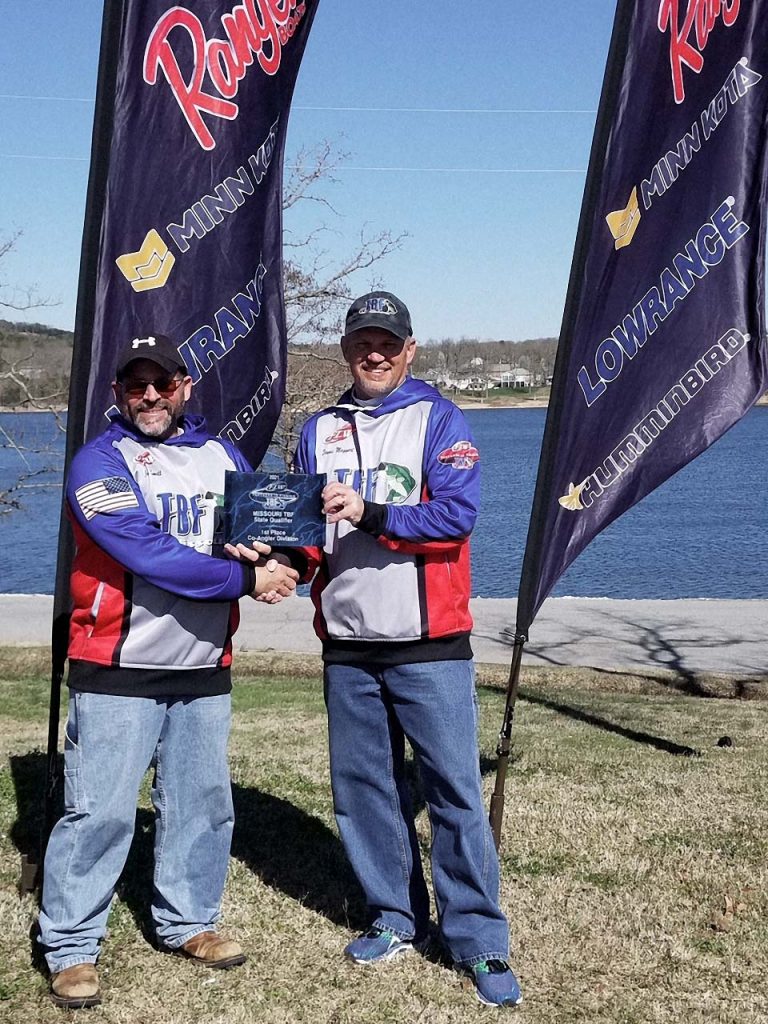 We were blessed with a very strong co-angler field at Table Rock and we were not disappointed with the bags. Leading all of them to the scales was Jon Small with an impressive 2 day total of 10 fish for 25.41 pounds. Jon caught multiple keepers each day to post a solid bag on Saturday of 12.12 pounds and followed it up with another great sack of 13.29 on Sunday culling through over 20 keepers! Each bag also included the "Table Rock Trifecta" with keeper Largemouth, Smallmouth and Spotted bass. All of Jon's fish on both days came on homemade bladed A-rigs using Kietech swimbaits in several traditional shad type colors. Each day he had to adjust the colors and how he worked the bait to key in on how to trigger these fish to bite.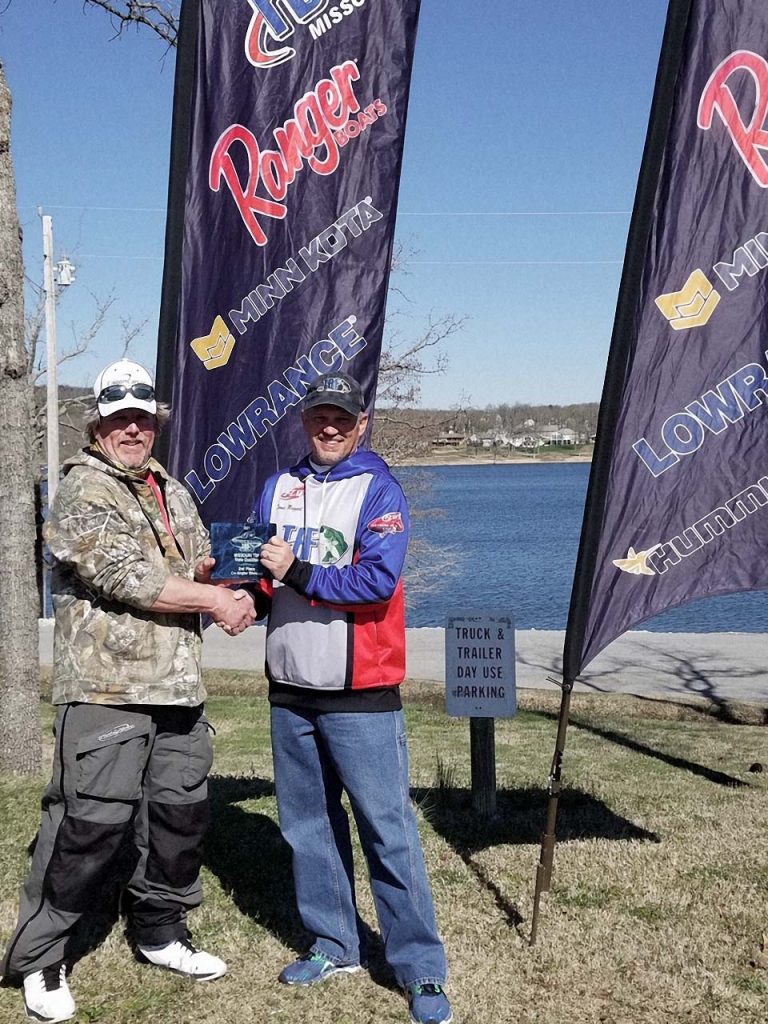 Following in second was our day-one leader, Paul Huse with 8 fish for 21.32 pounds. Paul's day one sack of 5 fish for 14.34 pounds was outstanding but he struggled a little on Sunday and brought 3 fish to the scale for 6.68. He caught most of his keepers on an A-rig also but also through a single swimbait. While the swimbait bite was there both days, the A-rig seemed to produce the better bites so he stuck with it to wrap up second place and a trip to the TBF National Semi-Final.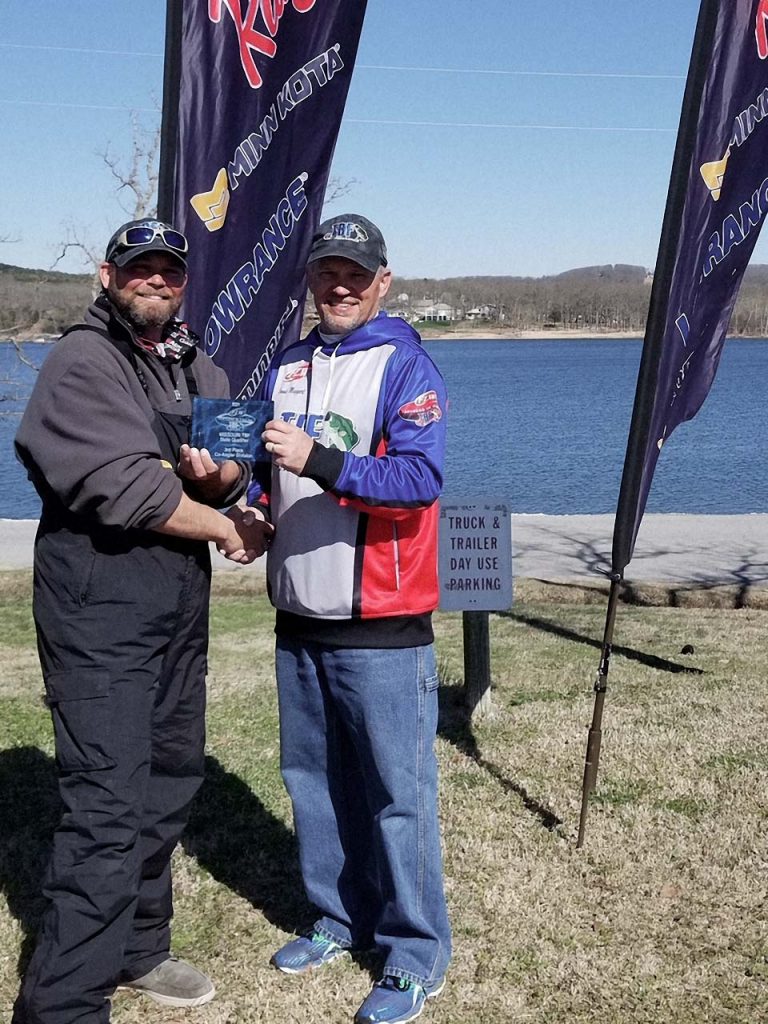 Finishing in third place on the Co-angler side, after making a hard charge on day two, was Carl Metz. Weighing only 2 fish on day one for 5.86 Carl shocked the field (and his boater) on Sunday by bringing in 4 fish that tipped the scales at an impressive 14.64 pounds! This gave Carl on outstanding bag of 6 fish for a total of 20.07 over two days. Like most anglers, Carl used the A-rig as his "go to" bait but also changed over to a jig on Sunday to land some of the better quality fish.
We had several anglers that also had some nice bags over the weekend that I would like to mention. Tom McGovern led day one with 5 nice keepers that totaled 15.08 pounds for the second biggest bag of the weekend. One of our newest members, Clayton Sansoucie also brought 10 keepers to the scale at the event to finish just out of the top three in 4th place with 19.34 pounds. Big bass awards were also given to Don Heiser for his day one toad of 5.5 pounds. The big female was caught Saturday on a Rock Crawler up the White River arm. The award for big bass on the co-angler side went to Troy Richter who landed a 5.2 pound lunker Sunday on an A-rig halfway back in a mid-lake creek between a couple of docks.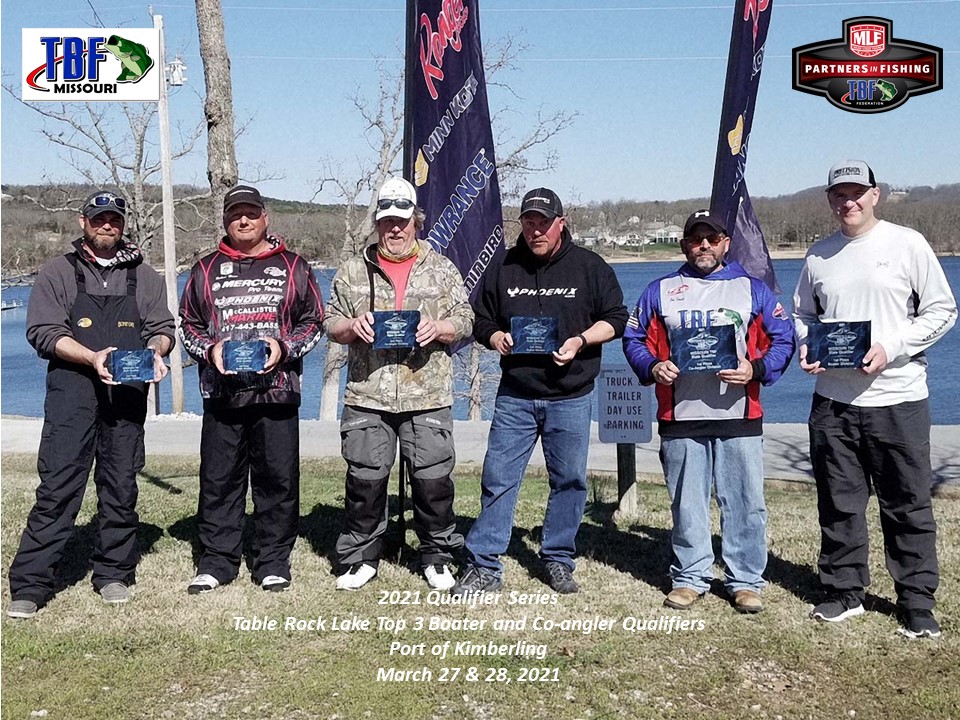 Congratulations to our Top 3 Boater and Co-angler Qualifiers who have earned a spot on the Missouri TBF State Team to compete in the TBF National Semi-final at Wilson Lake, KS on October 2 & 3, 2021. This is the next step on the path to the TBF National Championship and the opportunity to compete in the MLF All American.
The MO TBF Board would like to thank all our sponsors for the support of this event, Ranger Boats, Minn Kota, Humminbird, Lowrance, Bass Pro Shops, Cabela, Berkley, TH Marine, Wholesale Batteries and Power Pole. A special "Thank You" also goes out to Port of Kimberling Resort for their help in hosting this event. Finally, the Board would like to also thank all the anglers for their participation and support of the Missouri TBF. Our next event is the annual Team Championship at Lake of the Ozarks on April 25th (Larry Gale Ramp). We look forward to seeing everyone there and at our second Qualifier at Truman in May. If you are interested in joining Missouri TBF and putting yourself on the path to the TBF National Championship contact Dennis Maggart at Dennis@mcinnesgroup.com.